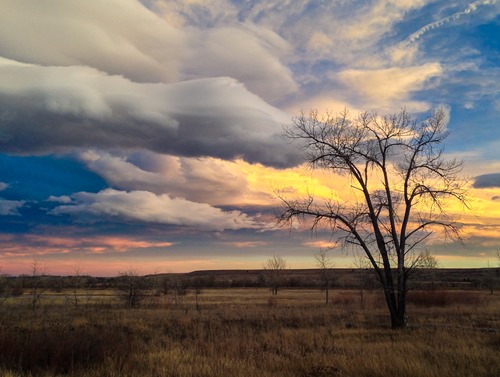 As I begin my 39th year, it is impossible to not appreciate the quiet of the winter that gives so many reasons to reflect upon the past and have hope for the coming year. Although I am writing this more than a month after the 2014 New Year, this entire season is a time for annual reflection and consideration of the future that begins with the Winter Solstice, then the celebration of Jesus' birth on Christmas, followed by the start of a new calendar year on New Year's Day, and finally culminating with my own birthday in late January. With each additional birthday, I've come to realize that each year we are given can be part of a continual process of growth and positive change that is guided by our reflections and deliberate choices.
As I learned last year, reflection is as important as goal setting, and 2013 provided many reasons to give thanks and celebrate. The year kicked off immediately with my final condo renovation—the bathroom project that turned out as well as I could have hoped, partly thanks to my friend Matt and his tiling skills.
With some free time on my hands, I enrolled in a writing class that help further my ongoing goal of improving as a writer. And keeping true to my goals, I sold my 4Runner in January and began life with just my Westfalia for transportation that I took to the Utah desert on several occasions including Turbo Weekend which finally resulted in my video review of the Bostig turbocharger. Getting back to my writing goals, I enrolled in another class and learned how to use WordPress which allowed me to make a huge upgrade to my website with the WordPress platform.
I love it when I am finally able to achieve a goal that has eluded me for ages, and when I purchased a Phantom quadcopter in May, I did just that and also learned the extreme importance of tight, integrated design compared to organically created systems. Not only did I finally have a fully working quadcopter, but I quickly used it to create several cool videos including one of Dane Jackson kayaking and another of the EXPAND handicapped water skiing program in Boulder.
The 2013 kayaking season was not one of the best on record and I only boated half as many days as 2011, but most of the days I had on the water were fantastic. The season started off in earnest with my trip down the Animas River which I still consider to be my overall best kayaking experience to date. A few weeks later, I loaded up my van again and set off for a 3 week kayaking road trip to Wyoming, Idaho, and Montana that served up over a dozen new rivers and countless stories. During the extreme heat of my road trip without an air conditioning, I realized that despite the many incredible advances I have made to my 1985 Westfalia van, it will simply never be the modern, maintenance free, comfortable vehicle that I want in my life and that continuing to devote significant energy to things that won't change or improve is simply not healthy. Partly for that reason, I later decided to sell my van and bought a Toyota pickup truck instead. In contrast to the disappointment in my van after the trip, around the same time, I met a wonderful girl named Kelly, who I've been happily sharing time with ever since. I suppose that it really is true that you sometimes need to make room in your life to allow other good things in.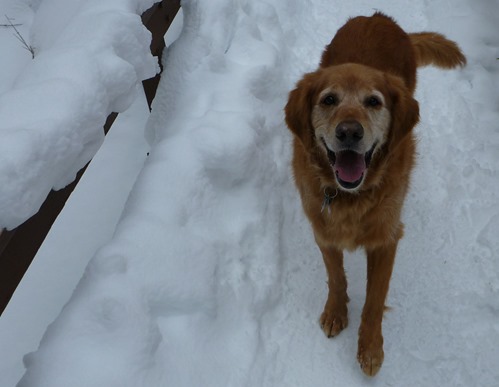 Not much later, while my parents were visiting my brother and I in Boulder, the Colorado floods of 2013 inundated the region with more water in a few days than we usually see in an entire year. I was fortunate to escape unscathed as were most of my friends and acquaintances. And on a more positive note, I joined the other local kayakers in a storied late season of kayaking on Clear Creek that will surely be talked about for decades to come.
As the year neared its end, I had one big, final item on my agenda—the launch of the TCTE instrument. So in the early days of December, I joined my friends and colleagues along the shores of the DelMarVa peninsula and watched one of the most spectacular sights of my life as the TCTE instrument roared off its launch pad through the sky and into orbit around the earth.
The year also concluded with a few additional highlights even if they were less dramatic. Over Thanksgiving, I returned to Moorestown, NJ to visit with great, old friends for my 20th high school reunion and was just as happy to spend time with my sisters, nieces, nephews, and other family for the holiday. And in early December, my trusty dog and companion, River, turned 10 years old! He's still full of energy chasing balls, running in the snow, and being the happiest dog I know.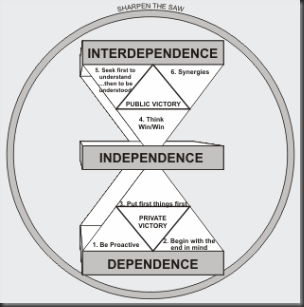 As I move into another year, a new theme is permeating everything I do. Without consciously realizing it, I have begun to redirect my energy from inward facing goals to outward facing goals which is precisely the path Stephen R. Covey recommended as part of maturation in his acclaimed book, The 7 Habits of Highly Effective People and which he illustrated in the following diagram.
Without a doubt, as I move forward in the coming year, my relationships are my most important focus. I'm eagerly looking forward to sharing more time with Kelly, spending time with friends, and visiting with my family more often. This new focus is a direct continuation of my efforts last year, and I look forward to many great memories that will come as a result.
I am also throwing myself headfirst into the Colorado Whitewater instruction program by attempting to reinvent the ways that we teach kayaking and connect with the kayaking members of our community. It has been a huge effort the past few months that has redirected my attention away from myself and toward something much bigger than me. But just as the 7 Habits spoke of, I realize that it is only possible for me to do this now because of the significant personal development that I invested in myself with kayaking the past several years.
I know the coming year holds many challenges and adventures I have not even considered yet, but next week, I will begin an amazing adventure that will surely provide life-long memories. On February 16th, I will shove off in my kayak for a self-support trip with seven friends down the most legendary stretches of American whitewater—the Grand Canyon. As I travel the majestic desert canyon, guided by the river's course but choosing my own path, I will undoubtedly continue to contemplate the many blessings I have experienced in the past year and wonder where the next year will take me. I look forward to sharing all of these new adventures with you.