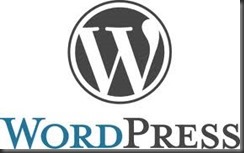 Welcome to my new website that is built on the WordPress.org framework!
I've spent the past two weeks migrating my old Blogger-based blog into a brand-new, from-the-bottom-up site built in WordPress. There are a multitude of reasons to use WordPress instead of Blogger that generally relate to powerful customization, but my primary reason for switching has to do with one thing—accessibility. On my Blogger site, my old content was completely out of sight and bound to collect dust and cobwebs. But the power of WordPress allows for simple content organization that keeps previous posts, pictures, and videos right at your fingertips. Maybe it's the OCD in me, but I absolutely love it when things are organized.
Right off the bat, you'll notice a menu across the top of the site that logically groups the different content types that I create and care about. Some of these menu items contain sub-menus (About, Blog, Projects) while others take you right their target (Photos, Videos, etc.). Within each of these menu items, you'll find customized content that is organized into Pages and/or Categories. Pages provide a static interface while Categories are dynamically updated when new posts are added in those Categories. These organizational tools make it simple to group a subject like home improvement projects (House Category, House Page) so that a viewer can see all the work I've done on my condo without having to wade through 2 years of posts. It also means that I can keep content readily accessible and presented just how I want it as with the case of my Antarctica page that was previously presented in reverse chronological order on my Blogger site.
The next thing you'll really notice on my home page is that the posts are presented as summaries rather than as fully expanded posts. As a reader, this makes it much simpler to skim the website and find the content that actually interests you. You'll also notice a few pages that contain slideshows that highlight different content whether it be stories, photos, or videos. These sliders allow me to direct the viewer to some of my favorite stories and videos that were previously hidden on the old site. And when you read my posts and pages, you'll notice that I've included FaceBook integration, so go ahead and hit the Like button if you're inclined! Or if you you have something to say about one of the posts, use the Comments box at the bottom of the page.
If you've been a loyal subscriber to my blog, you'll need to update your subscription method to keep getting updates.
Email subscribers: Just enter your email address in the right sidebar on the patrickbrown.org site and you will continue to get updates in your email when I post new content
RSS subscribers: Use patrickbrown.org or patrickbrown.org/blog as the feed that you want to subscribe to.
I am really pleased with the new site, but there are a few aspects that aren't quite dialed in. First off, it loads slower than I'd like, but it might have to do with my home internet. Secondly, I don't plan to update all of the links from the old posts, so you might find yourself occasionally dumped back onto my Blogger site. I apologize for that, but I'd rather get out and enjoy the summer than spend countless hours updating hyperlinks. Finally, it's a website which means that it is bound to evolve and change appearance over time and suit my tastes as they change. In the meantime, I hope you enjoy the new site and be sure to give me any feedback good or bad.
If you are more of a visual learner, I put together a little screencast that highlights the differences from the old site and also shows off some of the new features and organization.