1985 Volkswagen Vanagon Westfalia for Sale (SOLD!!!)
Features:
Bostig Turbocharged Engine

206,600 miles (57,000 miles on Zetec engine)

PreRunner Suspension

Solar Powered ARB Fridge

Clean, Functional Camper
Price:
$25,900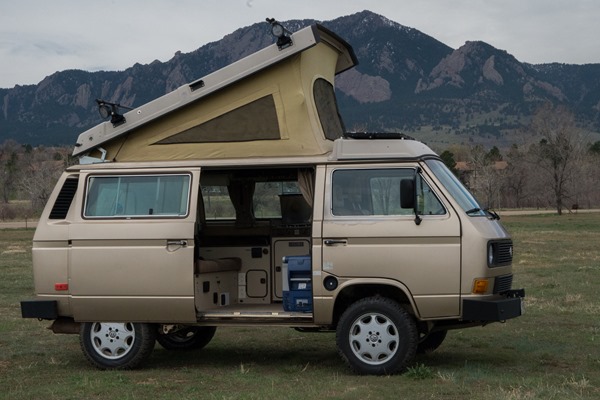 If you're looking for an expedition ready vehicle for your next road trip, look no further. Volkswagen Vanagons with Westfalia camper packages are highly sought after and ideally suited for any road trip or expedition.
Personally, I believe that Westfalia Vanagons are one of the coolest, most unique vehicles ever produced—truly the Swiss Army Knife of the automotive world. However, after I spent enough time with my van, I realized that it needed certain improvements to make it more enjoyable.
With my background and expertise in designing, building, and testing aerospace systems, I've spent the past 6 years methodically improving my 1985 Vanagon with the best system-designed parts from Bostig and GoWesty. Along the way, I've tested each of these improvements to verify they meet the rigors of expedition travel as I've traveled the U.S. and the high altitude highways of Colorado. I am definitely not alone in my systematic approach to maintaining and improving Vanagons with both Bostig and GoWesty having written about how you get what you pay for and why it is always worth it to buy a van that has been properly gone through, maintained, and improved in a systematic way.
However, it has come time for me to part ways with my beloved Westfalia Vanagon.   After 6 years of modifying and improving it, I've reached the point that I've completed all the projects that I wanted to do and am ready to pursue projects in other areas of my life. Over the years, I've spent over $35,000 improving my van and that doesn't even include labor or wearable items (tires, oil, etc.). All of those transactions are fully documented in both paper and electronic versions and will be provided to the buyer. And because of the realities of automotive depreciation, I'm forced to offer you these improvements at a deeply discounted price compared to doing them yourself. In short, the van I'm selling offers excellent value.
---
Bostig Turbocharged Engine System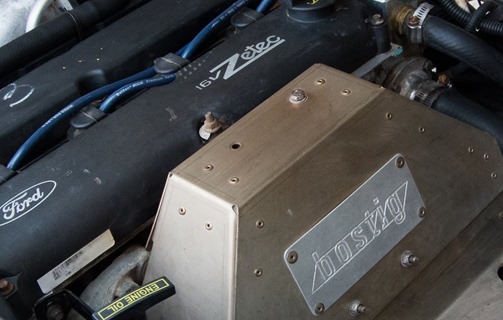 The Achilles heel to any Vanagon is the unreliable, underpowered VW engine. During my first year with my van traveling through the steep mountains of Colorado with thin air, it was tough for me to drive more than 25 mph and avoid break downs.
In 2009 after a year of ownership, I realized that the reliability and power of the engine needed to be increased. After extensive research, I concluded that Subaru conversions were too piecemeal to be reliable, and that rebuilt VW engines were a terrible value since they'd need to be rebuilt again soon while offering no power improvement. Then I found out about Bostig.
Quite simply, Bostig produces the only end-to-end engine conversion system for the Vanagon—they are the Apple of the Vanagon world. If you don't already know about Bostig, check out their website and give Jim a call. He is incredible and will make you a believer in no time at all.
I installed the Bostig V2.0 conversion in March 2009 with a 7300 mile Zetec engine, and also installed a rebuilt transmission (GW tranny with heavy-duty aluminum gear carrier), new CV axles, and a Luk heavy duty clutch. At the time, the van had 158k miles, so there is less than 50k miles on the whole powertrain. Immediately, the new engine outperformed the stock version, and I was able to reliably cruise through the Colorado mountains at comfortable speeds as I documented in this video.
Two years later, Jim asked me if I was interested in their Turbo Private Beta (non-production) version of their turbocharger, and I jumped at the opportunity. The boost in power was incredible in the mountains, and as to be expected with Bostig products, reliability has been superb. I documented my satisfaction and experiences with the turbo in a video series called Turbo Weekend that you can check out on my website.
In summary, the Bostig turbocharged engine system is as reliable and powerful as any modern vehicle—it will get you to your destination fast and will always get you home.
---
GoWesty PreRunner Suspension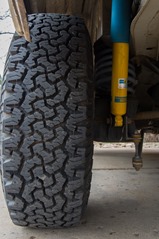 What fun is camper if you can't get to cool camp spots? Outfitted with top of the line suspension components, you will be able to get just about anywhere in this van!
It has been upgraded with GoWesty 16 inch alloy wheels for a huge improvement in overall drivability along with GoWesty 1.5 inch progressive lift springs, Bilstein sport shocks, and front & rear heavy-duty Whiteline sway bars. Riding on those rims are brand new BF Goodrich All-Terrain T/A tires that will take you absolutely anywhere. All told, the ground clearance is greater than almost any stock 4wd on the market now, and the approach/departure angles put them all to shame.
In the off chance that you find yourself stuck in the mud, the heavy duty recovery points on the GoWesty front and rear bumpers are perfect anchors for your buddy to pull you out by.
---
Exterior Photos
Looking at this van, you immediately know it's ready for adventure. The high-stance, oversized truck mirrors, steel-plate GoWesty bumpers, and Yakima roof rack bars are ready to haul your gear and your buddies to the mountains or beach. Pile on your kayaks, surfboards,  and mountain bikes—this van is ready for your next road trip!
Click here to open the Exterior Photos album in its own window
---
Camper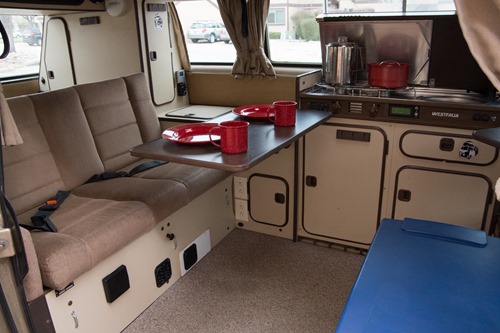 The heart of this van is the Westfalia camper package. It is the reason you're interested in this vehicle. Although the German's did a poor job on the engine design, the camper portion couldn't have been much better.
The interior of this van has been immaculately maintained and all camper systems are fully functional. It is a rare day when you find someone who can honestly say that about their Westfalia.
In addition to keeping everything clean and functional, I also modernized a few systems. Without a doubt, the biggest improvement I made to the camper was adding a 47 liter ARB electric fridge. The digitally controlled thermostat is capable of easily cooling or freezing food regardless of outside temperature. This is a top of the line unit that is regularly used in Australian and African safaris. After using it, you'll wonder why Westfalia even bothered including the stock fridge.
Additionally, the pop top tent was replaced with a 3 window canvas variety that dramatically improves airflow and light inside the van. I also replaced the propane tank with a new one from GoWesty and had an Extend-A-Stay added to allow for external propane tanks and propane devices to be connected to the main tank. Taking advantage of the propane is a Propex heater that greatly extends the camping season into the winter months. The hook ups were also replaced along with the quick-connect water connection from GoWesty.
Most recently, I added an exterior perimeter lighting system that will light up the entire camp site. 30 Watt LEDs are diagonally mounted to provide full 360 degree coverage with dashboard control. And when you shift into reverse, the back lights come on automatically providing daylight to that dark campsite!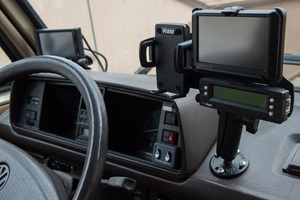 Sitting in the driver's seat, you're immediately greeted by modern electronic gauges and devices that would make any new car jealous. The DashDaq keeps tabs on the turbocharger and engine data logging, while the ScanGauge provides a quick glance at most engine parameters (coolant temp, battery voltage, engine load, etc.). Next to the ScanGauge is a GPS to get you to the camp spot, and an adjustable cradle for your cell phone. In the event that you need to modify the engine parameters, just unplug the ScanGauge and connect the SCT X3 tune loader to the OBDII port under the dash.
Meanwhile, the Kenwood stereo is capable of playing tunes from just about any possible source—SiriusXM satellite radio, Bluetooth streaming, USB, iPod, auxiliary input, CD, FM, and even AM radio! Connected to the stereo via new speaker wire are four Infinity speakers along with a compact subwoofer for great sound. When you reach camp, the tunes can keep playing with power provided by the auxiliary batteries thanks to a three-way selector switch.
---
Auxiliary Power System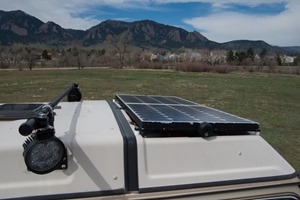 After you get to camp, you deserve a few of the luxuries of home (lights, fridge, radio, 120V inverter, laptop charging, etc.) and this van has the perfect system to power all of those devices and gadgets. Having worked on satellites that depend on reliable power systems, I took the best principles and techniques from aerospace and applied them to my own little space capsule for exploring planet Earth.
The auxiliary battery bank has a whopping 169 Amp-hours of storage capacity in two separate batteries that are charged from three different sources depending on your situation. If you're parked in the driveway, just plug an extension cord into the exterior hook up and the CTEK smart charger will provide ample juice while the fridge will automatically switch to 120VAC. Then when you start driving, the Blue Sea automatic charging relay (ACR) will send current from the alternator to the aux batteries. And when you finally get to your perfect camp spot and get settled for a week of relaxation, 100 Watts of roof mounted solar power will keep the fridge and your accessories running continuously.
If you find yourself parked in the shade, no worries—just unlock the quick release handles and move the panels out into the sun. But what happens when the clouds roll in and you need to conserve power? Well, you can easily check on the condition of all three batteries on the digital battery monitor. Additionally, you can use the Blue Sea switches to manually disconnect or connect any combination of the three batteries for just about any scenario you can dream up.
This power system has reliably powered the ARB fridge 24×7 for 6 months a year along with the lights, radios, and other accessories. It is tried and true and ready for you.
---
Interior Photos
Below is a selection of interior photos of the van.
Click here to open the Interior Photos album in its own window
---
Maintenance
In addition to all of the upgrades, I've taken great care of the vehicle with regular maintenance and replacement of wearable items.
The brakes were fully replaced (pads, rotors, calipers, stainless lines, wheel bearings, shoes, drums, wheel cylinders) in 2008 and a new set of pads/shoes is included.

The starting battery, starter, and alternator were all replaced and each have associated warranties.

Most of the cooling system was replaced including the radiator, and very recently the heater blower motor was replaced.

It is worth noting that I removed the rear heater for more space, but it is in perfect condition and could be reinstalled easily.

I also resealed the fuel tank and replace the fuel pump and filter recently.

The windshield was replaced and is chip-free.

I just performed an oil change and replaced the air filter.

The van just passed the strict Colorado emissions test.
---
Still To-Do
Although the van is in great functional shape, there are two things that could be done to improve it cosmetically. First, as I'm sure you've noticed in the exterior photos, some body work is in order to deal with the seam rust and some pealing clear coat. Since the approach to deal with it is highly personal, I think (and so does GoWesty) that it is best to sell the van without any cover-ups and let the new buyer choose the path that makes sense for them. Second, the upper control arm bushings make a groaning sound despite the fact that I just replaced them with brand new ones from Van-Café in August. This is a known issue with Vanagons, and I think it would be best if the new owner had their own mechanic install new bushings to get a local installation warranty.