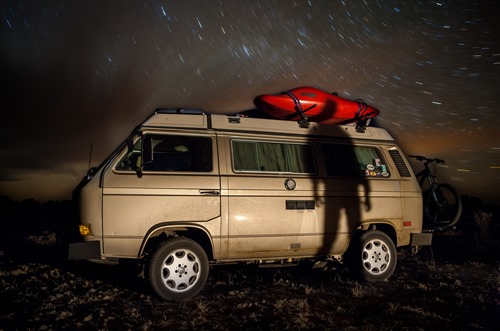 In May of 2011 amid rainy weather that was foretelling of the epic kayaking season that was soon to come, I huddled under a tarp in my condo's parking lot covered in a combination of grease and rain. I systematically worked away on my 1985 VW Vanagon removing one component at a time and replacing it with a slightly modified or improved version until I finally came to the single part that made it all worth it—the turbocharger. Just a few months prior, I spoke to Jim of Bostig and we agreed that I would be a good candidate to install their private beta version of the turbo charger kit on my Zetec-powered version 2 of the Bostig engine conversion. So over the course of a week, I spent my weekends and evenings playing the part of shadetree mechanic rather than playboating on Clear Creek. When the installation was complete, my Westfalia's power was dramatically increased and I set out on a 10 day kayaking road trip around the mountains of Colorado that fully demonstrated the significant improvement that the turbocharger made at high altitude.
Despite my joy in the new turbo system, one small thing nagged at me during that trip and since then. When I originally spoke to Jim about being a beta tester for the turbo, I told him that I would make a little video review for the turbo in much the same way that I did for the original Bostig installation in 2009. Fast-forward to March of 2013. The long Easter weekend lay ahead and I was bound for Moab, UT to play in the sun, dirt, and water. It dawned on me that it is better to be late than never, so I committed to finally making my video review of the Bostig Turbo. And having recently been schooled in the adage that it is better to show than tell, I decided to take the viewer along on a typical weekend in my van so they could see how I actually use it.
The video project turned out to be pretty ambitious, and I wound up with so much footage that I organized the video into a 5-part series. The five episodes are presented below and depending on your interest in turbocharged Vanagons or in outdoor adventure sports, you might prefer some episodes to others. In any case, I hope you enjoy coming along with me for a fun weekend to the Moab desert and also come away with an appreciation for how effective the Bostig turbocharger is at powering my van and me on a typical Turbo Weekend.
---
Episode 1: Driving I-70 to Utah & Bostig Turbo Commentary
Almost every trip in Colorado begins with a long drive over high mountain passes that are capable of eating stock Vanagons for breakfast, lunch, and dinner. In my 2009 video review of the Bostig conversion, I took the van up I-70 and shared my experiences with the newly powered vehicle. It only seemed appropriate to share my experiences with the turbocharged variant under the same conditions, so once I again I took the viewer along on my drive along I-70 as I pushed through the night to reach the Utah desert.
---
Episode 2: Kayaking Westwater Canyon
In recent years, most of my typical weekends in the Utah desert have been spent kayaking the rapids of the Colorado River through Westwater Canyon, and on the first day of Turbo Weekend I did just that. We had a wonderful, warm spring day on the river, and the canyon was gorgeous with nary a soul to see. If you've never been on the rapids of the Colorado River, this episode will give you a good taste of what it is like.
---
Episode 3: Climbing Elephant Butte
On the second day of Turbo Weekend, we entered Arches National Park and spent the day hiking, scrambling, climbing, and rappelling to reach the highest point in the park—Elephant Butte. It was a wonderful adventure with my friends to a location I had never imagined exploring.
---
Episode 4: Climbing Looking Glass Rock
Situated among fields of sage brush south of Moab stands a sandstone monolith unlike any I have seen. Looking Glass Rock may appear to be just a large, isolated outcropping, but if you approach it from the correct direction, it reveals a massive overhanging alcove that is punctuated by an arched opening. It is a truly beautiful location that we were able to fully appreciate by climbing up the flanks of the rock and then rappelling down into the massive amphitheater.
---
Episode 5: Mountain Biking Rabbit Valley & Bostig Turbo Final Comments
On the last day of Turbo Weekend, I parted ways with my friends and made a pit stop at the Colorado-Utah border to solo mountain bike along the rim of the Colorado River at Rabbit Valley. In this episode, I also conclude with some final, flattering remarks about the Bostig turbocharger.
---