UPDATE 7/31/2013: I didn't win the contest, but I had a lot of fun trying and really appreciate all the publicity I got for the video!
Please help me win a video contest being put on by DJI, the makers of my Phantom quadcopter!
Just click on the link below and press the Thumbs Up/Like button as shown in the image below! If mine is one of the top 10 videos (as determined by the number of YouTube Likes), I will win another Phantom quadcopter and I will be will to fly it all sorts of crazy places to get even more impressive aerial footage! Thanks a million!
Click here to watch the video and press the Like/Thumbs Up button!!!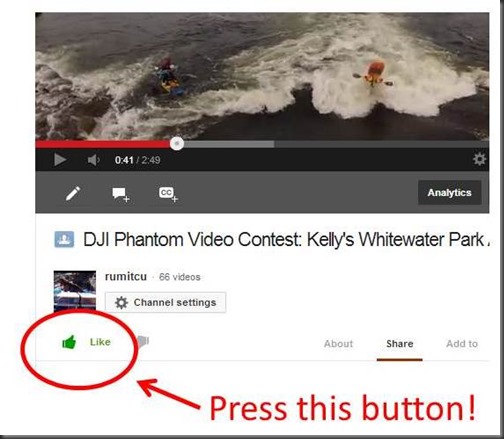 Voting closes on July 27, 2013, so do this now and tell your friends too!