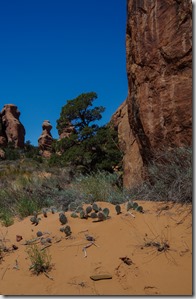 Winters of late have served as a time of rest for me with a focus on projects around the house. So after several months of mulling about the house, the arrival of Spring brought with it another season of opportunity to travel and explore the West. When Colorado was still locked in Winter's hold, the deserts of Utah were beginning to warm and offer the perfect place to get out camping and play in the sunshine. In the past month, I've managed to make it to the desert on 3 separate weekends with trips to Moab, Fruita, and then Moab again.
Good Friday was a CU holiday, so I decided to extend my long weekend with another day of vacation and really make the most of the Easter weekend. And fortunately for me, the Holcombe's were also in the Moab area and had a Westwater permit for Friday. For almost 2 years, I'd been meaning to make a video about my impressions of the Bostig Turbocharger kit so with a weekend of play ahead of me, I decided it would be a perfect time to document my life with the Bostig upgrade and so was born, Turbo Weekend! Over the weekend, we kayaked Westwater Canyon, climbed Elephant Butte in Arches National Park (N.P.), climbed Looking Glass Rock south of Moab, and mountain biked Rabbit Valley near Fruita. And all the while, I had 4 of my cameras focused on our activities to document the turbo life. The video is coming soon, and it will be worth the wait!
I also used my new Garmin Fenix GPS watch on all of my adventures, so if you're curious about where I went, check out the following GPS tracks:
---

Two weeks after my Turbo Weekend in Moab, I headed west again but only as far as Fruita for some mountain biking with Karen and Scott. We camped in the BLM distributed area out near 18 Road and were able to enjoy the Bookcliffs trails directly from camp each day. Compared to the warm, sunny weather 2 weeks earlier, we were faced with more seasonable conditions that culminated with gale force winds that forced Scott and I to abort our ride along the knife-edged trail of Zippity Do-Da. I also collected some GPS tracks from our rides which you can see here:
---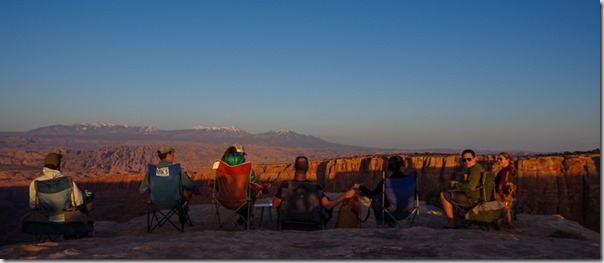 The spring desert season concluded for me this past weekend with another wonderful long weekend in Moab that I shared with a larger group of friends. Scott F, Scott W, Karen, and I started the weekend with a long drive after work Thursday night that culminated in a bouncy drive along a dirt track off the Rabbit Valley exit to a perch high above the Colorado River at Knowles Canyon Campsite. It is a magnificent place to camp, and that resulted in all of the spots being taken. On Friday morning, we got back on the road determined to find a nice camp for our group along the Colorado River, but once again, every single site was occupied. Apparently, we weren't the only ones who wanted to be in the desert and camping was looking to be quite difficult to get. Rather than spend a whole day driving around looking for a place to camp, we headed up to a secret spot of mine near Dead Horse State Park. We had the location all to ourselves and the view from "the beach" was breathtaking with the Colorado River, the rugged sandstone desert, and the snowcapped La Sal mountains all before us. On Friday night, Tracy, Jodi, and Ryan showed up and our group was complete as we watched the sun descend over the landscape.
The next two days were spent between time in camp and exploring Arches National Park. On Saturday, we did the obligatory hike past Landscape Arch to Double-O Arch, and I was reminded of just how beautiful that section of desert really is. Sunday, we returned to Arches but with a special backcountry permit that allowed us to explore the Fiery Furnace section of the park. The Fiery Furnace consists of vertical sandstone fins that allow for days of exploration of the resultant slot canyons. We only had a few hours to explore, but we found some amazing locations and were able to get everyone out in one piece in time for Jodi and Ryan to drive back to Denver. The heat of the day was overwhelming for me, and we were fortunate to find a new camp spot along the Colorado River where I repeatedly cooled off by jumping in the water. Monday rolled around, and before heading out of town, we got in a fun ride at the Bar M mountain biking trails north of Moab. It was yet another action-filled weekend in the desert that had to come to an end eventually. I can't wait to get back out to the desert this fall when the temperatures cool down again, and in the meantime, I can at least remember the fun we had as I look at the photo album below!
Click here to open the photo album in its own window
And here are a few GPS tracks from the weekend: