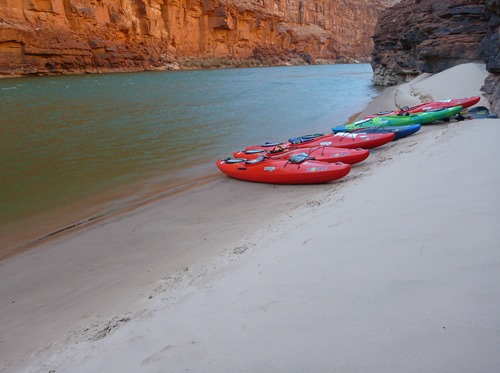 The repeated beeping penetrated the cloudy, inner depths of my slumber, and I instinctually reached to the side to turn off the alarm. Fumbling in the darkness, I couldn't understand why the alarm persisted despite numerous attempts to silence the device. Slowly, my mind and eyes adapted to the situation around me, and I came to realize the reason my watch's alarm was not turning off—I had been trying to silence my headlamp. Naturally, I turned on the light, quieted the 5am alarm, and then clicked the starter of the JetBoil just outside my tent that I'd preloaded the night before with 16 ounces of filtered water. In the two minutes that followed, I powered on my GPS to ascertain the overnight low temperature, recorded the temperature in my iPhone, and began packing the sundry items that lay scattered about my tent into a variety of ditty bags. Still lying snugly in my sleeping bag, I poured the hot water into my thermos and added Starbucks Via packets so I could immediately begin to consume my morning coffee as I tended to the morning's tasks.
After two hours of choreographed activities that included breaking camp, eating breakfast, changing into paddling gear, and the all-important morning pooping, I proceeded to my kayak that was packed with nearly 100 pounds of food, camping gear, clothes, and even my own excrement. Soon enough, the other five kayakers were also ready, and we slid our barges off the sand bank into the 47 degree, green water of the Colorado River. Our goals for the day included 25 miles of kayaking, scouting a few rapids, and a three hour stop to explore a side canyon. When we finally reached camp near 5pm, we felt satisfied with the day's scenery and our whitewater performances but were faced with only an hour of daylight before darkness settled on us again. Camp chores took priority to relaxation, so we unpacked our kayaks, set up tents, filtered river water, and prepared dinner on the sandy beach. There was conversation and joking, but due to our tired bodies and headlamp-focused views, it lacked the typical jovial nature found in river camps. By 9pm, I was tucked in my sleeping bag eking out a few pages of reading before settling into another long, restorative slumber knowing that we would be repeating this same routine the next day.

---
For 12 days in late February 2014, every day unfolded more or less in this manner for our small group of 6 kayakers as we attempted to take the metaphorical path less-traveled down one of the most heavily visited and famous stretches of river in America—the Colorado River in the Grand Canyon.
Compared to the 37,000 people who annually travel the sought-after stretch of river, we weren't using massive inflatable rafts to haul thousands of pounds of supplies for us, nor were we visiting during the warm summer months. Instead, we were carrying all of our necessities with us in whitewater kayaks and in the middle of winter. The approach we took was certainly a challenge and went against the grain but was in no means an extreme expedition. In recent years, this specific style of trip has increased in popularity and is referred to as self-support kayaking.
It is my firm belief that the way we do things is at least as important as the things we do, so when we began our adventure at Lee's Ferry on February 16th, it was clear to me that our self-support approach would define the journey at least as much as the canyon itself would. Not only were we self-supporting in the winter, but we were also paddling an extra 55 miles past the traditional Diamond Creek take-out so that we could paddle the entire 280 miles of the Grand Canyon all the way to Pearce Ferry on Lake Mead.
Focusing on the most important piece of paddling equipment, we wisely chose to use expedition-style whitewater kayaks that are somewhat longer than normal whitewater kayaks in order to accommodate all of the equipment and food that was needed for the trip. We each selected the Rogue 10 from Jackson Kayak which in addition to extra capacity also sported a sealed rear hatch for gear and a deployable rear skeg to help the boat track in flatwater. But even with our tricked-out kayaks, there was only so much volume to store food and warm clothing. Since we needed to be prepared for cold winter weather, our only choice was to limit the amount of food we would pack. We made efficient use of space by carrying a prodigious number of Backpacker's Pantry dehydrated meals, but ultimately the best way to limit our food volume was by limiting our number of days in the canyon. And so we decided to kayak the Grand Canyon in 13 days rather than the typical 21 to 28 days that a lazy raft trip affords.
---
Days 1-2: Setting Forth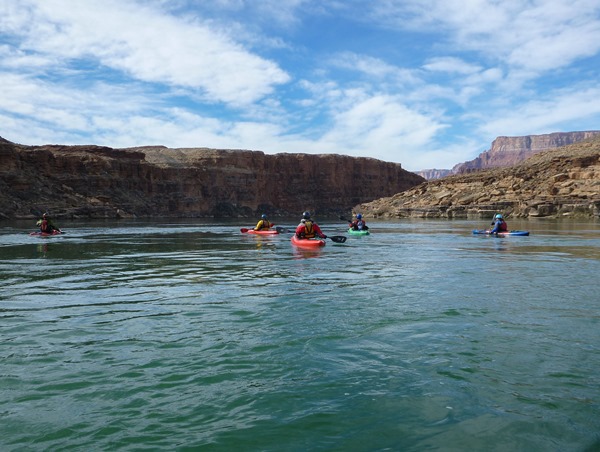 With the scope of our trip clearly defined, we cast off from the put-in at Lee's Ferry on the morning of February 16 under blue skies hoping we had the right gear, the right amount of food, and the right preparation for our ambitious undertaking. We quickly discovered that our heavily laden kayaks tended to pierce waves instead of riding over them, and by the time we passed under the Navajo bridges that signal departure from civilization, we were ready to earnestly begin our journey down the Grand Canyon self-support style.
As the day progressed, the canyon's geology began to slowly envelope us while the river carried us at a moderate 5mph pace through our first rapids. After a dozen miles, we stopped for lunch at Brown's inscription and were quickly taught that almost all of the canyon's named features are based on the unfortunate mishaps of those who initially explored the canyon. But compared to Brown's exploratory trip more than a century earlier, we were equipped with GPS, up-to-date maps, excellent paddling equipment, and an experienced team of whitewater paddlers who were familiar with the Grand Canyon. Actually, although four of our team had substantial experience paddling the Grand Canyon, it was the first time for Peter and me to experience the most storied of American rivers. And although I appreciated hearing about previous experiences from the others, mostly I wanted to see things with untainted eyes so I could form my own impressions of the canyon.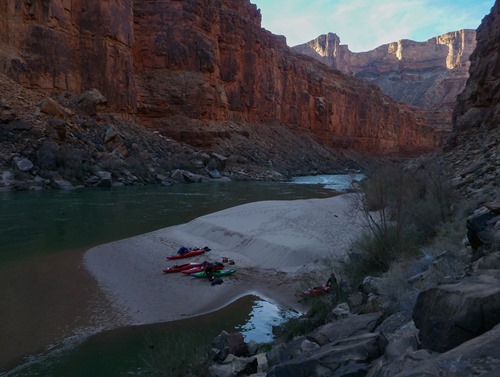 As expected, our first day on the water wasn't our fastest and was compounded by a strong afternoon headwind that impeded our progress. We didn't reach our first big rapid, House Rock, until 4pm, and deciding to be cautious, we got out of our kayaks and scouted before running the rapid without issue. With so little light left in the day, we checked out the sandy camp below the rapid but ultimately concluded that we would be sandblasted all night due to the strong wind and its location at a constriction in the canyon. Continuing a mile downriver and with only an hour and a half of daylight remaining, our trip leader, Ben, decided on camp just above Redneck Rapid on another sandbar.
With so little space for personal possessions and with no prior warning, I quickly discovered that I was quite unprepared to deal with the onslaught of sand that makes up so many of the Grand Canyon camps. I'm sure that rafters with all of their tables, chairs, and fancy furniture don't mind the micro-crystals of quartz as much I did. But without so much as a ground tarp to lie my gear on, I quickly discovered the need to be absolutely methodical in my motions to avoid sand infestation in all of my gear. Apparently, some people love the stuff, but I'd take a nice forest floor or grassy meadow to a sandy beach any day. And so began my adversarial relationship with sand in the Grand Canyon, or as Peter and I came to call it—the Sand Canyon.
After waking at 4:30am on Day 2, we got to paddling early and attacked a great series of rapids called the Roaring 20's that are named for their river mileage. We were then treated to two great stops we'd earned with our early rising. Silver Grotto was a neat slot canyon that required scrambling and swimming to gain entrance to its depths. After keeping the ravens at bay while enjoying our lunches in the grotto, we continued on to one of the most famous locations in the canyon—Redwall Cavern. The large cavern is actually an undercut formed by the river eons ago, and now provides respite for summertime visitors and photo opportunities for all. And for the second time in a row, we arrived tired in camp at the end of a long day.
---
Days 3-4: The Reality of Self-Support
When it's the end of winter and you haven't been paddling in months, three days of paddling in a row feels like a lot. Add in lots of miles with not much daylight and the matter gets even more challenging. We began our third day early knowing that we needed to quicken our pace to get back on track with the planned schedule. Fortunately, the sun cast its warmth on us once again with what became our normal trip weather—sunny, blue skies, and temperatures in the mid to upper 60's. Not bad for the middle of February. With no rapids, we made progress by paddling, paddling, and more paddling before taking a well-deserved lunch break and hiking up to the ancient Anasazi ruins at Nankoweap Granaries. Personally, I found it quite odd that the Indians chose to hide their food on the side of cliff but was definitely appreciative of the view that accompanied the location.
Soon enough, we were back in our boats paddling hard again when one of my trip ailments began to flare up. With each paddle stroke, I felt a hot flash of pain in my left shoulder that began to cast doubt on my ability to continue at such an aggressive pace. And even worse, my mind began to travel down that deep, dark path of doubt that led me to wonder if I'd even be able to continue on with the trip. On a typical trip, a layover day in camp might solve the problem, as would riding on a raft. But not so with a self-support kayak trip. Just like that, I began to truly appreciate the challenge of self-supporting while fearing the worst case of having to end my attempt.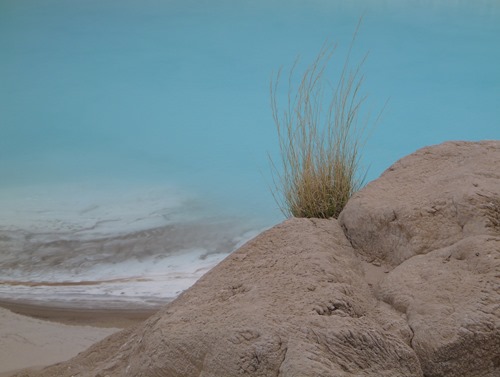 We reached the Little Colorado River around 5pm after 27 river miles and were treated to its rare, aqua blue waters that seemed to have appeared from a tropical paradise. We loitered for a few minutes before I remembered to take some ibuprofen for my shoulder hoping it would help my cause. That night in camp, my spirits sank low as I considered all of the possible negative outcomes for my shoulder—continued pain, hiking out early, surgery, missing the paddling season… The realities of self-supporting could not have been more evident as they were in my mind that night.
On the fourth day, I arose with conviction to take charge of my situation to the best of my ability. I consumed more ibuprofen and communicated to the group the need to set a reasonable, steady pace that took advantage of the river's flow as much as possible. We pressed on without any side hikes to detract from our pace and managed to log 26 miles with almost no pain. When I arrived at camp, I was tired but relieved to know that my shoulder issue wasn't insurmountable.
---
Day 5: Big Rapids, Big Fun
The fifth morning, we woke at 4am in order to execute a somewhat harebrained scheme. Months earlier, we reserved breakfast spots at the only settlement within the Grand Canyon—Phantom Ranch. Unfortunately our breakfast date was at 5:30am, so we had to break camp, paddle down across the river, and hike up to Phantom all in the dark and at a ridiculously early time of day. But after we consumed the eggs, bacon, and other delicacies, our efforts felt well worth it especially knowing what lay in store for us that day.

As we left Phantom Ranch with full bellies, we did so excited for our biggest whitewater day of the whole trip. My shoulder felt solid and the warm sun was a good omen as we approached the first of the biggies—Horn Creek Rapid. On the somewhat misguided Grand Canyon rapid scale, Horn is rated an 8 out of 10 due to two large wave-holes on river right that the main flow goes into. To avoid them, a boater most move very hard from right to left while fighting the current that is pushing right. At that point in the trip, I felt fully confident in my Jackson Rogue kayak and my ability in the whitewater, so as I entered the rapid I did so perhaps a bit too casually. Watching Peter fight hard to go left, I convinced myself that I was much farther left than he was and therefore didn't need to paddle as hard. Then suddenly, I found myself face to face with a breaking, steep wave 10 feet tall. Where did this wave come from? I don't remember seeing this during the scout. Oh well, just have fun and crank through it! It turns out that I wound up running right through the two big wave-holes that stood my kayak vertical, and when I emerged unscathed at the bottom, I let out a battle cry! Earlier in the trip, we encountered another group and one of the rafters talked about paddling through The Land of the Giants. After my experience in Horn, I knew exactly what he meant.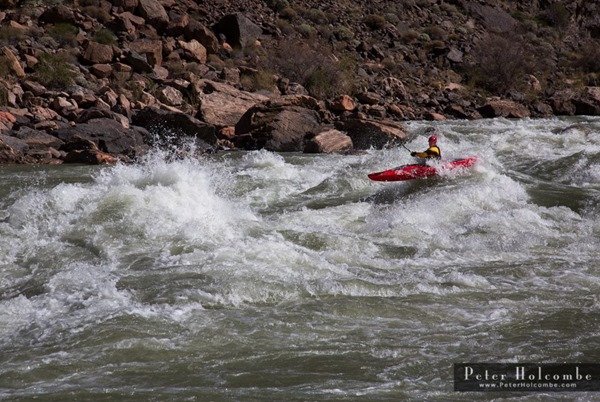 Granite Rapid was another 8 on the rating scale and one of the most fun in the canyon due to its length and straight shot down the right side through a huge roller coaster of waves. A mile later, we reached another great rapid called Hermit and got out of our boats to scout and allow Peter to take photos. There were two holes near the bottom on the left, but otherwise, Hermit was just another big roller coaster ride right down the middle. To help with Peter's photographic goals, I went solo first through the rapid hoping to put on a good show for the lens. I picked up speed on the dead-center of the green conveyor belt and planted a powerful boof stroke right at the lip of the first wave that sent my heavily laden boat sailing through the air. It was amazing  to catapult my expedition craft, and so with each additional wave, I tried getting airborne again and again. I reached the bottom of the Giants exhilarated and feeling the sense of awe and discovery that one can only find through their own unique experiences. All of the stories and opinions that had been sent my way by others didn't matter; exploring with my own eyes and sense of exploration made all the difference and left me with a huge smile on my face.
The last big-name rapid for the day was Crystal which isn't nearly as vicious as its reputation from decades ago. It reminded me of a somewhat easier version of high-water Warm Springs Rapid on the Yampa River, but the center hole was definitely deserving of respect and we all chose the conservative sneak line down the right shore. Somewhere near the top of the rapid, my stroke was a bit too strong in combination with an eddy current and my boat got spun around backwards. Rather than try to fight to get it pointed correctly down stream, I decided to have a little fun with the sneak line and paddled it backwards. Once again, I found that breaking from the mold and doing things my own way made all the difference in my personal enjoyment of the canyon. That day, we logged less than 17 miles but they were definitely the most fun of the entire trip.
---
Days 6-8: Finding My Place in the Canyon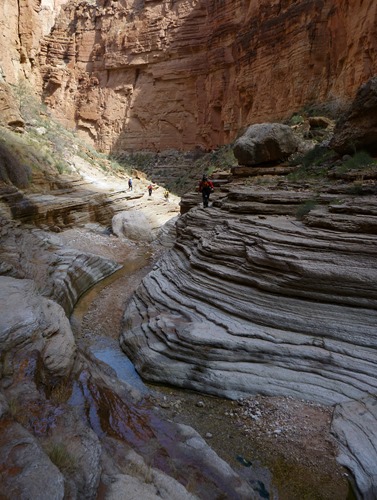 After almost a week on the water, the bumps and bruises were beginning to take a toll on my body. The first few days resulted in a jammed thumb, a bloodied finger, and a painful left shoulder which were soon joined by cracked skin on my fingers and hands. Without any rest days and very little down time in camp, the continued fast pace left little opportunity for my body to recuperate and even less time for my spirit to be at ease. Quite frankly, I was definitely not enjoying myself at that point in the trip. The sixth and seventh days of the trip added several more big wave rapids along with a few side hikes, but the lack of rest time left me in a poor position to appreciate my situation. Although beautiful, the hikes at Elves Chasm and Deer Creek felt more like work chores that kept me from punching the clock on a Friday afternoon.
It is possible to try to do too much, and I think our group did just that. Sometimes, skipping a pretty hike or two to appreciate the quiet all around is a much better option. On that seventh night at a mice infested sand beach camp called Pancho's Kitchen, I  began to succumb to the conditions that were slowly tearing me down when I scratched a satirical poem in the sand about my state of mind and the Grand Canyon. It simply read:
I  AM.

BECOMING.

SAND.
By the eighth day, I resolved to trust my instincts and set my own pace on the water and in camp to help ensure my own happiness and a healthy body. Among the day's 21 miles, we passed the half way mileage of the trip and soon arrived at Matkatamiba Canyon. Compared to some of the earlier hikes, I thoroughly enjoyed our short scramble up Matkat and began to regain some of the spirit of discovery that I usually enjoy so much during my adventures. But soon enough, we were back in our boats making miles so we could stop for yet another hike. However, I felt a stronger connection to our next stop since I had visited the area 15 years earlier. Passing the 157 mile mark, we rounded a bend just above a rapid and quickly caught a surreal eddy on river left.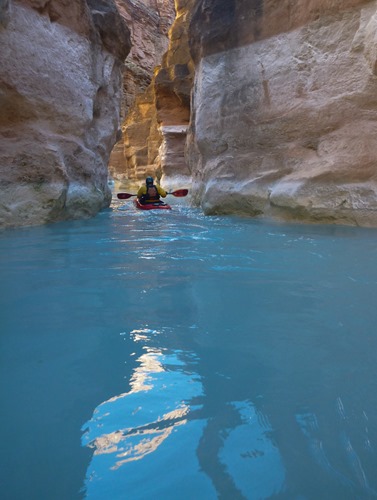 It was immediately apparent that the water was unlike any I'd previously paddled. Its milky, turquoise color instantly hypnotized the mind into a state of bliss. The source of the transfixion was Havasu creek that squeezed through a narrow slot of limestone walls on its way to join the Colorado River. Fortunate to be equipped in small kayaks, we were able to gain entrance up the creek for several hundred yards to further our enjoyment before setting out on foot even farther up the canyon. Apart from some USGS scientists who were calibrating the creek flow gauge, we had the entire place to ourselves.
When I visited Havasu previously, we hiked down from the rim to Havasu Falls which also amazed me with its strong juxtapositions of lush greens and blues against the desert reds. On that trip, we attempted to hike all the way to the river but were turned back by a flash flood, so this area was still new to me. Having already been blown away previously by the falls upstream, I didn't expect to be overly impressed by lower Havasu Creek on this trip. But as I was reminded once again, sometimes low expectations are the secret to happiness.
We wandered for an hour before Peter got out his camera gear and we got into action modeling our bright red Rogues on the blue water. We paddled endless laps up and down the slot canyon as Peter's camera hastily snapped photos in the precious remaining daylight. Somehow for the first time on the trip, I felt like I was just playing and having fun. The feeling was absolutely wonderful and has managed to stay with me weeks later when I recount my time at Havasu. As if to make the day the best yet, the camp we chose was a rocky ledge camp free of sand and full of great places to dry gear and cook dinner. For the first time on the trip, I slept under the night sky and was treated to several shooting stars as I happily drifted off to sleep.
---
Days 9-11: Lava Rapid and Pushing On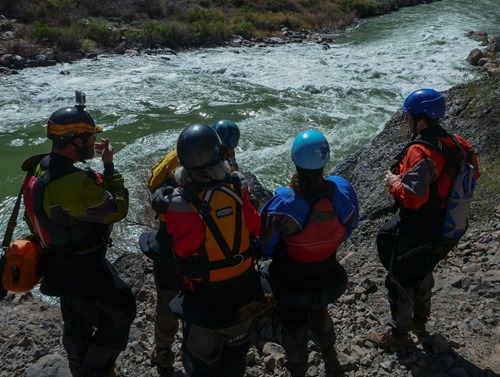 As we began our ninth day of the trip, we had already paddled the majority of the big name rapids, but one remained that exceeded all the others. On all previous days, when we scouted the big rapids, there was always an obvious, clean line that presented itself. But when we got out of our boats after 22 miles in the early afternoon, the view of the rapid below us was different than all the rest. Although there was a distinct best line that presented itself like the others, in Lava Rapid there was no way to cheat and avoid the meat of the whitewater.
Soon enough we concluded that no amount of staring or talking would help, and our Skittle colored sextet made its way nervously back to our boats. Peter entered the rapid first with me comfortably behind him. My focus precluded me from witnessing his bouncy ride across a huge lateral wave, and by the time I reached that wave I was aligned dead-center with the "V" at the bottom of the laterals that I'd targeted from the cliffs high above. The foam pile was taller than my head, but just like I'd experienced on Day 1, my heavy Rogue pierced right through carrying me on to a series of huge waves below. As kayakers sometimes say, it boated better than it looked. And just as importantly, it was a ton of fun! In the eddy below, I excitedly commented to Peter that if I had a smaller, lighter kayak, I would have definitely run several laps through the best rapid in the Grand Canyon—Lava!
For the tenth day in a row, we were treated to blue skies and sunshine that warmed the air to 70 degrees which astounded all of us considering that it was February 25. Although there were still a few rapids to spice things up, our day didn't include any hikes which freed us to make 28 miles all the way to camp at Pumpkin Spring. The day had been easy going, but as I unpacked my gear, it became apparent that what had started as a pogie rash on the backs of my hands early in the trip had worsened to a full blown infection.
The tops of both of my hands were cracked like mudflats, bleeding, and swollen like some sort of monster. Once again, I found myself in camp contemplating the possibility of an early exit. I flashed back to a high school football buddy whose infection nearly cost him his hand and to the ranger's stern warning that infection was one of the few emergencies that warranted evacuation from the canyon. All the while, I pondered that  Diamond Creek lay just 13 miles downstream and perhaps it made more sense to end my trip and the onslaught on my hands in favor of medical treatment and rest. But instead of feeding the worry, we got to work cleaning, sterilizing, and bandaging the wounds hoping for the best. As I fell asleep that night, I did so under a clear canopy of stars for the fourth night in a row and not knowing if it would be my last of the trip.

The following day began with a few clouds in the sky, but my spirit remained optimistic. Ben doctored my hands with waterproof bandages, and Susan graciously provided a pair of yellow dish gloves for further protection. In the late morning when we reached Diamond Creek, I felt confident in the condition of my hands and decided to press on in order to complete the journey that I signed up for.
Having never previously paddled the Grand Canyon, I found it surprising that Diamond Creek was the normal take out. The canyon walls still rose thousands of feet above and a sizeable rapid lay just downstream. Clearly, it was not the end of the Grand Canyon but rather just a convenient place to end most trips. And for some time, the rapids surprised us with how fun and playful they were. Since my confidence had increased so much throughout the trip, I continued to work on my new favorite skill and paddled almost all of them backwards. That night as we squeezed our tents on the small sand flats of Bridge Canyon, I did something for the first time on the trip—put my rainfly on my tent. There was a little rain as darkness encroached that was accompanied by strong winds that seemed to be carrying a change to the weather.
---
Day 12: Completing the Journey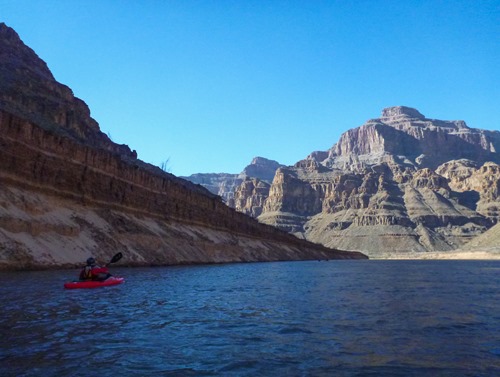 We awoke on the twelfth day of our trip knowing full well that it would be our biggest mileage day, but definitely unaware of exactly how big. With 45 miles remaining until the Pearce Ferry take out, we planned to paddle 30 miles to one of the last two camps in the canyon. Immediately after leaving camp, we sadly experienced our last rapids and were faced with slower moving flat water. We paddled continuously and efficiently knowing that a long day lay ahead. 20 miles later, the river widened and felt like a lake for the first time. We stopped on a sandy shore to munch on Clif bars, and as we did so, the wind picked up to epic proportions. River banks eroded right before our eyes in a spectacle that looked like a massive wildfire, and we knew it was time to continue on.
Unbeknownst to us, the winds from the previous night had signaled the beginning of a huge weather front that was about to roll across the entire country dropping rain and snow along its path. The wind continued to gain intensity and attempted to impede our progress, but our purpose-built Rogues tracked true with their skegs deployed. Knowing the end was near renewed my resolve, and I pushed on mile after mile through the relentless wind that would have stalled a traditional raft crew.
Eventually, we became walled in between vertical banks of eroding sand that I recognized as the silt flats that were the previous bottom of Lake Mead when the water had been higher. As the wind whipped furiously in our faces, it also eroded the silt banks right before our eyes with large avalanches carrying tamarisk trees into the water. What we witnessed was quite humbling—nature was reclaiming the terminus of the Grand Canyon that man attempted to tame just decades earlier. For all that we do and all of our best efforts, it was quite clear that everything eventually returns to nature.
After our 30 miles were complete and we pulled over on river-right, we were met by a disheartening sight. The camp we struggled to reach was already taken by a large raft group and we were forced to continue on. We paused, ate another snack and discussed our options. With only one remaining camp in the canyon and only 15 miles to the take out, we concluded that if the camp was taken, we would make one big final push to Pearce Ferry. So when we reached the final camp at mile 269.3 and saw it was also occupied, our decision was clear and we began paddling again in earnest.
For 11 miles, our group paddled without pause racing the sun to the horizon knowing that a beer and the comforts of modern life lay just ahead. And so just before 7pm, our entire group of six kayakers completed the entire 280 miles of the Grand Canyon when our boats left the Colorado River for the last time at Pearce Ferry.
---
Looking Back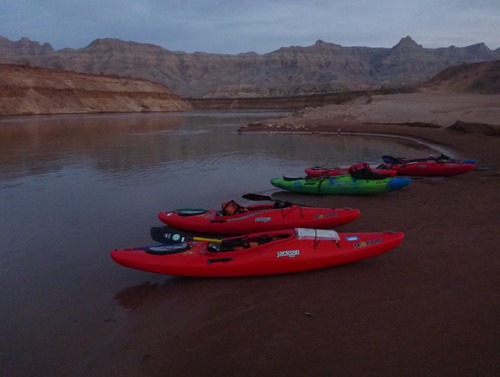 As I reflect weeks later on my journey through the Grand Canyon, it is apparent to me that there is always a uniqueness to experiences and expectations and that my journey down this most storied of rivers was different than anyone else's. Being such a popular and well-liked location, the expectations were astoundingly high and difficult to meet.
My own experience was one of taking the metaphorical path less-traveled which meant self-support kayaking during the surprisingly balmy month of February. Without a doubt, self-supporting was more difficult than I'd imagined it would be. The pace was non-stop with very little time to smell the roses, and I came to realize the importance of having time during my adventures for my own explorations so I can find those roses to smell.
In spite of all the bumps and bruises, long days, and camp chores in the dark, it was still a wonderful experience with friends that I will appreciate and cherish for years to come.
---
Photo Album
In addition to the photos above, I captured quite a few more that you can see below.
Click here to open the Grand Canyon Self-Support photo album in its own window
---
Trip Details
Throughout the trip, I recorded various details including daily high/low temperatures and our position using GPS that you can see in the table below.
| River Day | Date | Camp | River Mile | Mileage | High Temp | Low Temp | GPS Track |
| --- | --- | --- | --- | --- | --- | --- | --- |
| 1 | 2/16/2014 | Redneck Rapid | 17.5 | 17.5 | 69 | 33 | Click here |
| 2 | 2/17/2014 | Nautiloid | 35 | 17.5 | 65 | 44 | Click here |
| 3 | 2/18/2014 | Below Lower Colorado River | 62 | 27 | 65 | 46 | Click here |
| 4 | 2/19/2014 | Upper Cremation | 88 | 26 | 67 | 47 | Click here |
| 5 | 2/20/2014 | Emerald | 104.5 | 16.5 | 65 | 42 | Click here |
| 6 | 2/21/2014 | Lower Blacktail | 120.7 | 16 | 60 | 41 | Click here |
| 7 | 2/22/2014 | Pancho's Kitchen | 137.7 | 17 | 70 | 41 | Click here |
| 8 | 2/23/2014 | 158.7 Camp | 158.7 | 21 | 65 | 50 | Click here |
| 9 | 2/24/2014 | 185.9 mile camp | 185.9 | 26.3 | 70 | 51 | Click here |
| 10 | 2/25/2014 | Pumpkin Spring | 213 | 28 | 70 | 46 | Click here |
| 11 | 2/26/2014 | Bridge Canyon | 235 | 22 | 74 | 56 | Click here |
| 12 | 2/27/2014 | Motel in Boulder City | 280 | 45 | 70 | NA | Click here |
The GPS tracklog for the entire trip can be downloaded here.
---
Back to Grand Canyon 2014 Main Page
Read the previous Grand Canyon 2014 article, Into the Canyon
Continue reading Grand Canyon 2014 with the next article, Pine Creek Canyoneering
---
A big thanks to our friends at Jackson Kayak, Backpacker's Pantry, and Watershed Dry Bags!
---