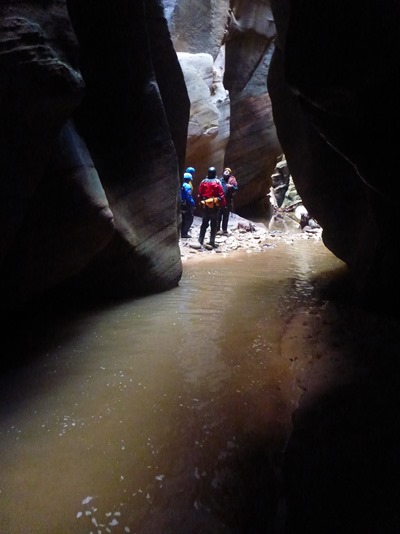 With our Grand Canyon trip just a day in our past, we opted for a little more adventure before heading back to our normal routines in Colorado. Peter has spent an enormous amount of time exploring and climbing through Zion National Park, and he couldn't wait to share one of his favorite places with us. The park was on our way home and when we arrived we experienced the first cool, rainy weather of the trip which made us that much more grateful for the warm, sunny weather that graced us each day in the Grand Canyon.
When we awoke on Saturday, March 1, the cool overcast skies were still present, but the rain had fortunately ceased which gave us a chance at attempting our adventure for the day. You see, our goal was to explore a tight slot canyon that had been carved over the eons by Pine Creek, and if there had been too much rain, the conditions would have been too dangerous to proceed. But as luck would have it, the rain held off and although the creek was flowing, it remained at a safe level.
The canyoneering route through Pine Creek basically parallels the Zion-Mount Carmel Tunnel, and around 11am we left the tourists by the roadside and began our descent into the bowels of Zion expecting to emerge several hours later at the other end of the tunnel feeling enlightened by our journey. Almost immediately, the slot canyon constricted to a few feet wide and the floor dropped away necessitating our first of many rappels. After Peter graciously established our anchor, I descended down the two-tiered drop into a freezing cold pool of water that was deeper than I am tall. Fortunately, I was prepared for the situation with my Kokatat dry suit to keep my body warm and my Watershed dry bag to keep my gear safe from the water. As soon as I was off-rappel, I began snapping photos with my waterproof camera of the spectacular, cavern-like environment knowing that I had to show people at home the beauty of the seldom visited location.
The next several hours were filled with another dozen rappels along with many swims through cold pools of water. And along the way, we were treated to waterfalls and sunlight that played on the curved walls as if it were a cathedral. We moved efficiently to ensure we would finish in daylight, but I made sure to take in the unique environment as I moved deliberately down the slot canyon. Four hours later, we had finished the final, 100 foot tall rappel into a gorgeous, fluted cavern and began the short hike back to the road feeling tired and in awe of the place we had just visited. We all thanked Peter for sharing the spot with us knowing that without his knowledge, skill, and patience, none of us would have been graced by it.
Along the way, I captured quite a few photos that help convey what our trip through Pine Creek Canyon was like. I hope you enjoy them.