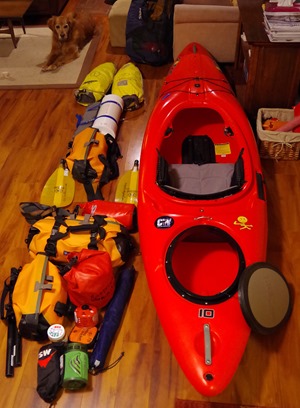 Early on February 16, 2014, six whitewater kayaks will cast off from the shores of Lee's Ferry onto the Colorado River. Each 10 foot long Jackson Rogue will carry a paddler, food, and equipment deep into the bowels of the earth for 13 days and 280 miles. The experiences of this small band of adventurers will undoubtedly be magical as they immerse themselves in one of the seven natural wonders of the world–the Grand Canyon.
As good fortune would have it, I will be one of those six paddlers who is choosing to forego the luxuries of raft support and the warmth of the summer in favor of our own brand of adventure. I have never paddled the Grand Canyon and when I received the invitation in September of 2013 from my friend Peter, I was initially hesitant to accept due to the winter season and the challenging logistical approach. But after a few conversations, he had me on board and our small group began to come together to meet the challenges of a winter self-supported kayak trip for almost 2 weeks. We are now just days away and as ready as we'll ever be.
I will return with stories and photos to share in future posts, but in the meantime, you can track our progress on a daily basis on this map that will be updated by my SPOT when we reach camp each day. If for some reason the map fails to update, don't fear. We are a very capable group of kayakers and will still be having fun on the river even if technology lets us down.
See you in a few weeks…
If you have issues with the map above, try going to my SpotWalla trip page directly, or try going to my SPOT page. You can also check out Peter's SPOT page which should have updates every 10 minutes during the day. Finally, you can check out the 7 day forecast for the put-in at Lee's Ferry or  Phantom Ranch in the canyon.
---
Back to Grand Canyon 2014 Main Page
Continue reading Grand Canyon 2014 with the next article, Grand Canyon Self-Support Kayak Trip
---
A big thanks to our friends at Jackson Kayak, Backpacker's Pantry, and Watershed Dry Bags!