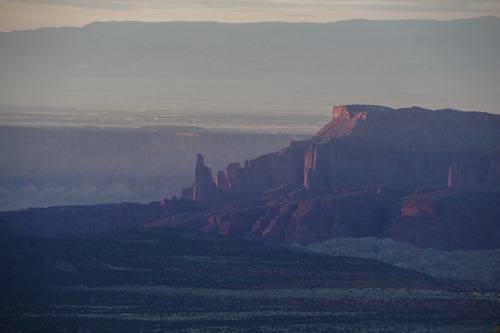 Just a boy and his dog looking for adventure. That's how River and I spent this past weekend.
With only two days to our avail, the 6 hour trip to Moab may not have seemed worth it to most people. And when you consider that by my usual standards, we barely did anything there with just one hike. But when you realize the sense of escape from work and responsibility and the simple joys that we found along the journey, it was a perfect getaway for me and my old dog.
The 50 hour round trip was full of discovering cool new places in the desert which began with a great little campsite on a mesa a few hundred feet above the Rabbit Valley exit of I-70. On Saturday morning, we rose early and motored down Highway 128 toward Moab with a steaming cup of coffee in my hand and my eyes scanning the landscape for a nice breakfast spot. When we reached Dewey bridge, I turned off the highway and followed an old dirt road that bounced my Tacoma and ultimately forced it into 4 wheel drive. Ten minutes later the trail ended for all but the most lifted Jeeps, and River and I got our breakfast food and scampered up the slickrock to a wonderful view of the Colorado River and sandstone hoodoos. With satiated stomachs, we climbed back in the truck, I marked the spot in my GPS as a future campsite, and we continued the drive along the Colorado River and one of the prettiest stretches of road anywhere.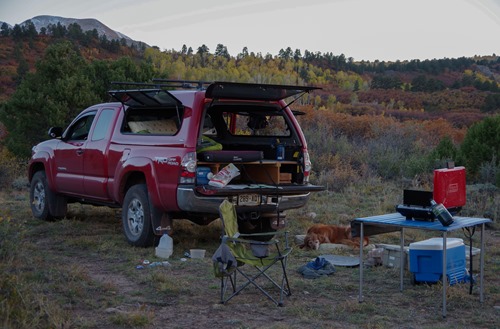 For 15 years, I've been visiting and exploring the Moab area on mountain bike, but for this quick trip, I forewent the additional logistics of packing my bike and decided to search out new places on foot. Opting to explore the stretch along the Colorado River before reaching Moab, I decided that a hike up Negro Bill Canyon was just right. The 2.5 mile out-and-back hike was River's favorite desert hike with a perpetual stream and lush vegetation that kept him cool and juxtaposed the red canyon walls. The end of the canyon ended abruptly at Morning Glory natural bridge/arch which more adventurous hikers rappelled off of into the canyon to begin their hike. Two and half hours after we started, we returned to the parking lot and I knew I had found a new classic to share with friends.
Hoping to snag a campsite at mid-day, we cruised back up along the Colorado and turned off at Onion Creek. A year ago on our first camping trip together, Kelly and I discovered great camping up the side canyon and I hoped to find an equally cool spot waiting for me. But as I followed the road with its two dozen stream crossings, to my dismay, every campsite I came upon was occupied.
Prior to leaving Boulder, Lars told me that it was possible to continue up Onion Creek into the La Sal mountains and come back down Castle Valley Road which is just a few miles down Highway 128. Since it sounded like a nice little excursion that would take me to new places, I figured I could drive it quickly and then search for a campsite along the river afterwards. Little did I know that the drive would take more than 5 hours and require slow-going in 4wd.
Along the way, I felt more isolated than I have in years and began to realize that I would end up needing to sleep somewhere high above my usual Moab desert sites. The longer I drove, the higher the road climbed, and the more the environment transformed from desert rock to alpine forest on the slopes of the La Sal mountains. The reds of desert walls gave way to the autumn reds of the desert scrub oaks, and golden aspens highlighted the views for yet another weekend. When I thought I'd never find a camp spot, a small track materialized of the main road which I followed to a precipice that loomed above the entire landscape that I'd just spent hours driving. Amazed that I'd found yet another incredible location, I quickly established camp and admired the scenery. With map laid out before me and beer in hand, the sun slowly set and I studied the landscape and confirmed my exact location and those of the landmarks I passed in my travels.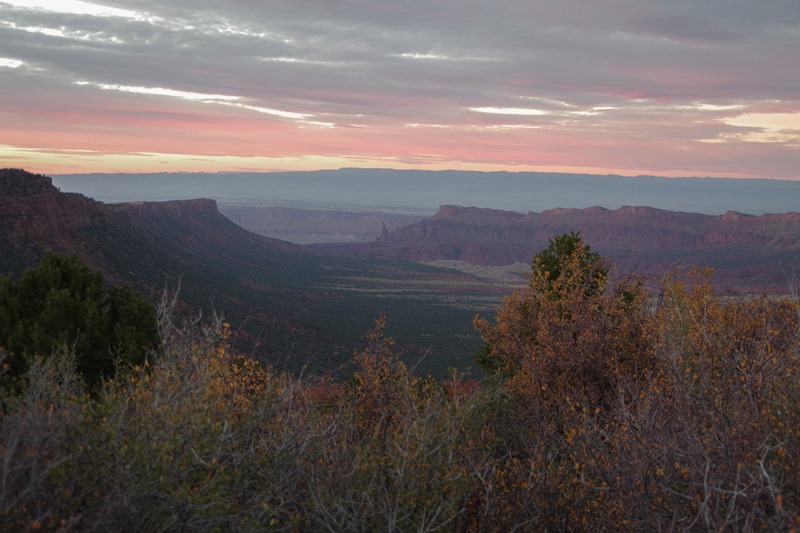 Sunday's sunrise brought cooler temperatures and high winds, so I decided the sandy desert wasn't in the cards for me. Back on the road, I descended from the autumn colored La Sal mountains and re-entered the desert realm in Castle Valley that presented a unique vantage of the stone monuments that are usually seen from Highway 128.
Back on I-70 and headed home, I opted for another sight that has gone unseen by me and pulled off at Rifle. Just 10 miles north of the exit sits Rifle Falls State Park, and the valley drive was filled with an Eastern mixture of fall colors that glowed softly in the light rain and overcast sky. The park was all but deserted due to the precipitation, so I was able to enjoy the waterfalls and small caves without distraction and even take a few photos before continuing on home.
With aspens playing such a prominent role in my life the past several weeks, I was amazed by the sight of peaking golden aspens in the Vail corridor that contrasted with the freshly fallen snow from the weather front that forced me out of Moab early. The sight so entranced me that I pulled to the side of I-70 and captured some of the unique beauty with my camera finding it hard to believe that I came upon yet another gorgeous scene this weekend.
Just over two days later, I arrived home wiped out and thoroughly appreciative of the numerous sights I witnessed and locations I discovered in that short time. And I even got to do it with my old buddy, River Dog. It just goes to show that even a weekend is long enough to have an adventure.
---
Here are a few photos I took over the course of the weekend:
---