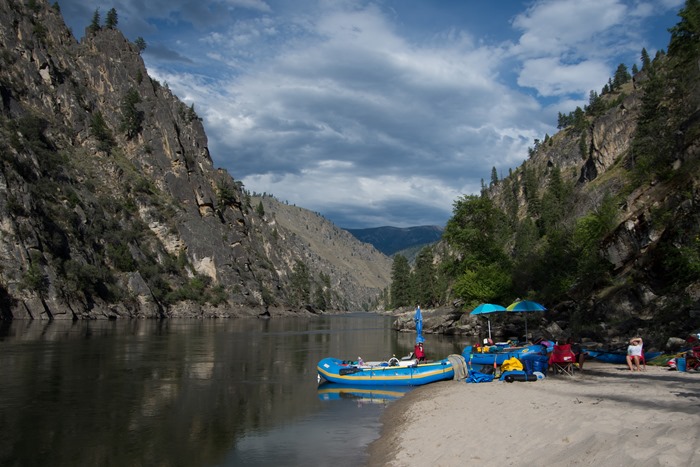 "Take the oars!", I shouted to Kelly just moments before leaping from our raft onto the blue ghost ship that was careening out of control down the river toward Split Rock Rapid.
Thirty seconds prior, a monstrous, ten foot high wave capsized the leader of our trip along with his crew of three and dog but the raft had miraculously remained upright with its ton of gear safely lashed in place. Of course, this all came as a shock to Kelly who not only had never been a wilderness, adventure "vacation" of this sort before, but more importantly had never even rowed a raft. And just like that, she found herself behind the oars of the heavily laden raft with the roar of the next rapid growing louder every second.
---
Just three weeks earlier, Kelly and I found ourselves planning how we'd spend our summer—visiting families, weekends to the mountains, etc—but without a single big trip on the horizon until I received an email from Captain Nutty. We briefly discussed the invitation to join the Hazels on a family-style rafting vacation on the Main Salmon River in Idaho, and I attempted to answer a few of Kelly's questions about the logistics of living off a raft while running whitewater each day in the middle of nowhere. Ten minutes later, and Greg (Captain Nutty) had our confirmation that was soon followed by two more families.
Part of my explanation to Kelly was how we would load a week's worth of our food, water, and camping gear onto our rafts and then set forth with our small group of adventurers for a week of escape and fun into the largest roadless area of the Lower 48—the Frank Church/River of No Return Wilderness. Even though she had never embarked on such a trip before, she admirably showed no signs of hesitation, although I'll admit that I purposely left off the part about the Main Salmon River being known as the "River of No Return". It turns out that the river's moniker was derived from its swift current that prevented early explorers from traveling upriver, but I figured it was safer to just avoid the name altogether.
In addition to the opportunity to share my love of rivers and wilderness with Kelly, I was doubly excited that River Dog was welcomed to join us on the trip. Considering he turned 10 years old in December and having experienced a similar, life-changing trip with Ginger Dog on the Snake River in Idaho in 2002, I couldn't have imagined a better opportunity than to bring him along for a doggy senior vacation that might not be possible in the future.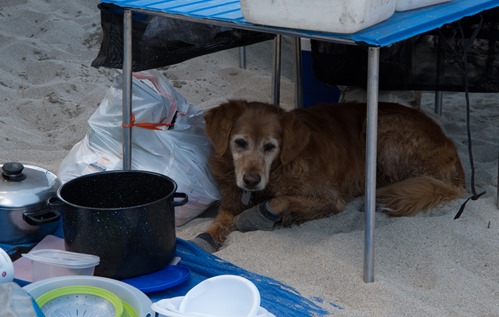 After a 15 hour drive from Boulder, we all converged at the Corn Creek campground and put-in in northern Idaho on June 29 and spent the morning with the obligatory raft-rigging and check-in with the river rangers. We cast off by early afternoon and had a leisurely, 8 mile float to a beach camp named Phantom that set the precedence of relaxation and pretty views for our days and nights throughout the trip.
Our second day packed a lot more punch in its 25 miles on the river, including one of the biggest rapids of the trip—Black Creek. A lengthy scout revealed the left side as the preferred line, and soon enough, we all successfully bashed down the big waves while avoiding the nasty, recirculating holes. As a reward for our competent boatmanship, we were treated with a soak in hot springs high above the river in a cement-cast pool before continuing on to our beach camp named Bailey Bar.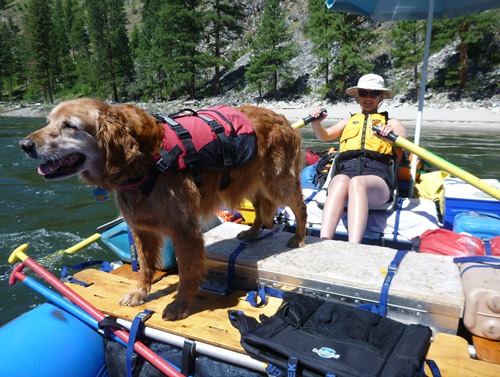 The month of July and Day 3 began innocently enough with a casual morning in camp that got us on the water by 11am but soon intensified a mile down river. We rounded the right-hand corner just past Allison Ranch at mile 34 with Greg leading the way followed by our raft, then the Kreski's raft, and finally the two kayakers. It was then that Captain Nutty spotted the big wave-hole just around the corner and turned to signal us away from it. We received his hand signal just fine, but in the meantime, his raft was pulled by the current directly into the hole in a slow-motion drama that stood the raft vertically and ejected the occupants one-by-one.
Shocked by the dumptrucking and awed that the raft remained upright, I quickly rowed downstream in pursuit of the swimmers and the vacant raft. Far quicker crafts, the kayaks also raced toward the swimmers to provide assistance. As if guided by maternal instincts, each of the kayakers reached their respective family members within a minute and I breathed a sigh of relief. What became obvious was that although the swimmers were being ably tended to on each shore of the river, the abandoned raft was rapidly gaining momentum and moving downstream away from its captain at an alarming rate. Having determined the people were safe, I made the quick decision to rescue the raft while unwittingly giving Kelly a top-notch river story to recount around the campfire.
Just after jumping ship and corralling Greg's raft to shore, I looked up and spotted Kelly standing tall and pulling hard on the oars toward the big eddy just above Split Rock rapid on river-right. Apparently, her beginner kayaking class made the right impression about the importance of eddies, and moments later, she was safely circling in the eddy with the swimmers and other boaters. And as if to prove her cool as a cucumber demeanor even more, she then assisted one of the swimmers safely onto her raft! As I ferried across the river to reconvene with the group, I felt immensely proud of Kelly's actions in the face of pressure and knew that it would be a story we'd be telling for years to come.
Having started the day with such a traumatic event, we were all noticeably nervous upon reaching Big Mallard Rapid and discovering that the usual left line was engulfed by a huge hole. But after evaluating the situation objectively, we hopped back in our boats and followed the right line that certainly boated easier than it looked. Further downstream, we cautiously scouted Elkhorn Rapid and discovered upon inspection and running it that the cataract was mostly washed out at the higher flows (~10k CFS) that we were boating.
Shortly thereafter, we stopped for a deserved lunch at Campbells's Ferry Ranch where we were regaled by the current owner with tragic stories of the many settlers who eked out a living on the small homestead. As it turned out, she documented all of the sagas in her book, Merciless Eden, and probably should have saved some of the stories for us to read instead of giving away the milk for free. Tired from big rapids and listening to stories of hardship, we finally reached camp after 16 miles at Paine Creek and enjoyed another restful evening highlighted by beach Wiffle ball games that continued all the way till dark.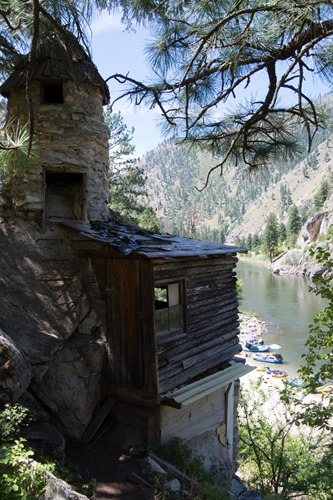 The fourth day of the trip proved to be far less taxing than the previous day with just 10 miles of rafting, no rapids of significance, and a mid-day stop at Buckskin Bill's ranch where we enjoyed root beer floats while admiring Bill's eccentric handiwork. By mid-afternoon, we reached the small beach at Upper Pine Tree Hole where the Captain had planned our layover day. Upon arrival, we were all surprised to find the flat sand beaches of the camp mostly submerged in the river with just a small, angled oasis of sand available for our camp. Unconvinced that it was large enough for camp, Greg unsuccessfully reconnoitered the next site downriver hoping it would prove to be more spacious, and so we settled into our desert island home like Robinson Crusoe.
With so much preparation, driving, rigging, rafting, and camp setting during the first part of the trip, there wasn't much time to just sit and take it all in. For that very reason, Captain Nutty planned one full day and two nights to be spent at a single campsite without needing to pick up and move down river. In river parlance, it's known as a layover camp. Upper Pine Tree hole had a few strikes against it as far as good layover camps go—it was tiny and it was isolated with no good hiking options to escape camp. Making up for these detriments were the two massive ponderosa pines that towered over the southern side of the beach providing mid-day shade and the large, shallow eddy that served as a swimming hole.
During that first afternoon in camp, I initially found myself fidgety and somewhat claustrophobic in our close quarters, and I can't honestly say what we all did with our time other than play in the water and just hang out. I suppose that the specific lack of defined activities was just what I needed to relax, and at some point I began to lose track of time and what we were up to. For one of the first times in many years, I let go and really felt like I was on vacation.
The morning of our actual layover day couldn't have been much lazier. We all arose casually mid-morning when the sun finally heated our tents to sauna temperatures and were then treated to gourmet made-to-order omelets by the Captain. With nothing specific to do and nowhere to be, someone suggested a couple of fun games for the day's entertainment. One game challenged us to create art using only nature's bounty which would then lead to an art walk around camp later in the day. The second contest was slightly more focused and challenged us to build boats from the beach's natural resources to be judged and floated down the river. Both contests brought out the best of everyone, although my aspirations were put into building a two-masted schooner fashioned from a huge piece of ponderosa bark and assorted branches. As our little maritime creations left the eddy and embarked downriver, we all imagined the reactions of other campers as the flotilla passed their camps and wondered if they also were in a vacation state of mind that would appreciate the boats the way we did.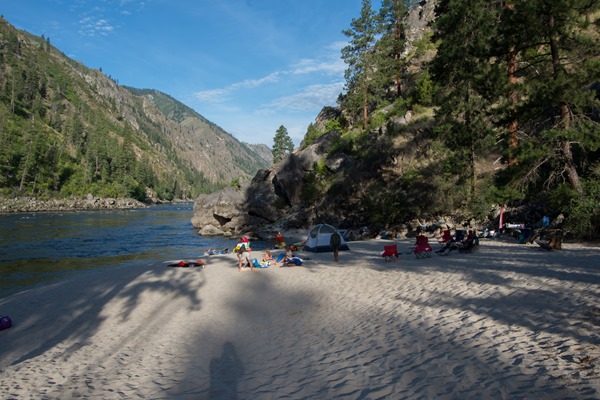 On the morning of Independence Day, we left our layover camp and set forth for our last day moving downriver. The river time was mostly uneventful, but we weren't complaining as we experienced yet another gorgeous day. Our lunch stop was made at another historic, private ranch called Polly Bemis Ranch where we picnicked in the shade and toured the green grounds and original cabin home of Polly. Back on the water several hours later, our downstream progress ended for good at Mile 75 and Johnson Creek Bar camp. Even though we were five miles from the takeout, we removed every piece of gear and strap from our rafts and placed them into neat piles on the huge beach in preparation for the next day's unconventional shuttle. After the tubular metal frames were also removed, we practiced righting flipped rafts in the eddy before dragging them onto the edge of the beach for a wet and wild slip-n-slide into the river. Fully exhausted from the rough and tumble games, we all settled into our chairs for our final dinner of the trip flanked by our nation's flag hanging from a tree behind us.
Typically, I would describe our Main Salmon trip as being six days long since we didn't continue downstream thereafter. But since I also usually consider any day on the river to be part of the river trip, I have to say that our trip was seven days long. You see, despite the fact that the River of No Return impeded upstream progress of 18th century explorers, technology and a loophole in the wilderness designation allowed us to do just that.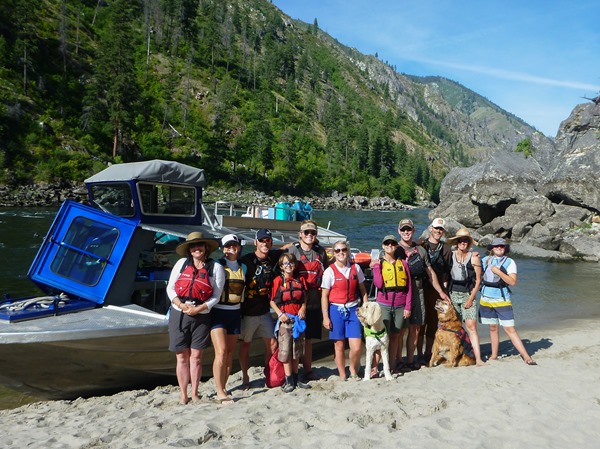 At 9am on July 5th, a 1200HP, 30 foot long aluminum jet boat pulled up to our beach and within the hour we had all of our raft gear neatly loaded onto the mid-section and stern of the boat. The captain slowly engaged the throttles and the triple engines roared to life propelling us up the river. I glanced at the speed on my GPS and was astounded to see that we were making 35mph despite the downstream current. The captain's skill was readily apparent as he expertly judged currents, waves, and rocks at every turn of the river, and I decided that he was much more than a normal boat captain—he was a pilot of the river.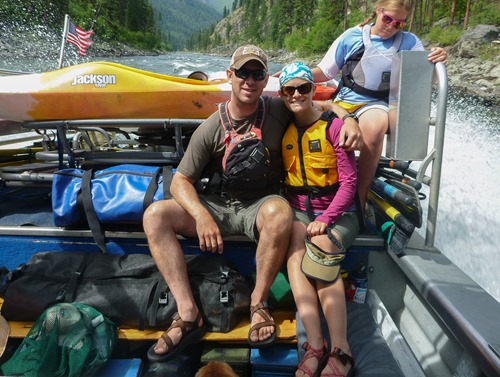 Bouncing off the backs of waves, we all held tight in our various spots around the boat as the previous six days' locations uncharacteristically unfolded themselves in reverse. After a little more than two hours, the motors quieted and the boat slowed below a formidable rise of water before us—Black Creek rapid. Under the watchful eyes of shore bound onlookers, the captain ferried the aluminum hull onto the bottom wave before giving the engines full throttle and catapulting our boat straight up the big drop at Black Creek. Our cheers were joined from the scouting rafters on shore, and we continued unimpeded upstream with huge smiles across our faces having done what was completely out of the realm of possibility for those early trappers who nicknamed the river.
Three hours after we departed Johnson Creek Bar, 75 miles had passed and we found ourselves back at Corn Creek put-in. It felt strange to pack our vehicles at the same spot where we'd unpacked and rigged seven days earlier, but with a long journey home ahead of us, we made short work of it and unceremoniously parted ways knowing that further adventures would bring us together again.
Over the past decade, I've done many river trips and each has provided wonderful memories. The Main Salmon River was no exception, and it was exceptionally great to share it with Kelly, River Dog, and the other families on the trip. Without a doubt, we will look back throughout the years and fondly remember that very first time that I hollered, "Kelly, take the oars!"
---
Photo Album
Check out a wide assortment of trip photos in the album below:
Click here to open the Main Salmon River Rafting photo album in its own window
---
GPS Tracks
As usual, I recorded our travels each day with my Garmin Fenix GPS watch, and you can check them all out at the following links:
Day 2

: Bailey Bar campsite

Day 3

: Paine Creek campsite

Day 4

: Upper Pine Tree Hole campsite

Day 5: Upper Pine Tree Hole campsite (layover day)

Day 6

: Johnson Creek Bar campsite

Day 7

: Jet boat ride back to put-in
Additionally, the GPS tracklog for the entire trip including camp waypoints can be downloaded here.
---