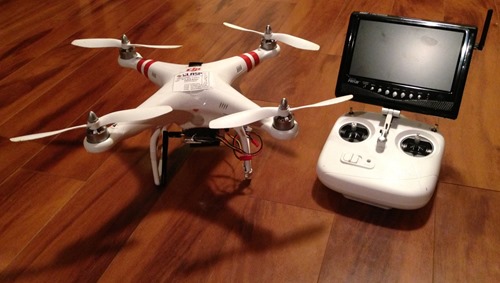 After 4 months and over 50 flights with my Phantom quadcopter, I decided that my aerial photography needed an improvement and I finally made the plunge into the world of FPV (first person view). Among the many challenges of aerial photography and videography with the Phantom is the difficulty in aligning the GoPro camera at the subject when the copter is far away and pointed in a different direction than the pilot who is on the ground. FPV is the name given to a wide array of electronic components that transmit a live video stream from a camera in the air to a pilot on the ground. Most often, FPV is used with video goggles that provide a completely immersive flight experience for big-time entertainment.
In my case, I wanted to be able to both fly line of sight for simplicity and reliability's sake and be able to view the video feed to help align the camera. There are numerous small displays that can be mounted on the RC transmitter for this purpose, but they typically require a separate FPV receiver and battery that quickly add to the complexity of the system. In keeping with the Phantom's theme of just working right out of the box, I began a search for an FPV kit with a similar philosophy and shockingly only found one vendor that met my needs—Kumba Cam.
The FPV kit arrived from Kumba Cam a little over a week ago, and within minutes of charging the batteries, the system was piping a live video feed from my GoPro to the provided 7 inch monitor that mounted on my RC transmitter. My first flights were equally successful and I have found that the system performs just as expected. At this point, I have been practicing flying with the new vantage point and am eagerly looking forward to the improvement it will make on my aerial photography.
For my full review of the Kumba Cam FPV kit, check out the video below: