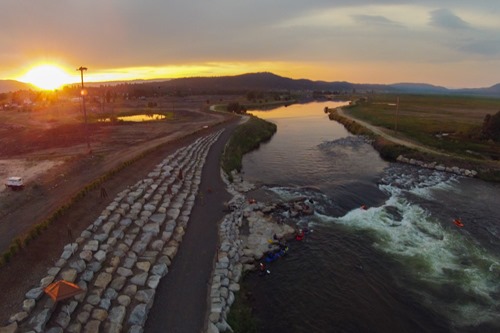 Kelly's, as it is colloquially known, is a flagship example of a whitewater kayaking park. It is named for the benefactor's sister who died in a car crash at a young age. I am not certain why they chose to create a whitewater park in her honor, but I am certain that it is a spectacular place more reminiscent of a private golf club than the usual municipal park. Manicured green lawns line the paved paths while jetty-like boulders flank the riverside offering perfect viewing of the four whitewater features. And for those who want to escape the heat in the A/C while using the free WiFi, the visitor's center offers another amazing view of the park.
After arriving at the park in the evening, we hopped in our boats and I casually explored some of the friendlier waves which were like a nice glass of wine after a long day. After I called it a day and got out of my boat, there was a strong contingent of some of the best American paddlers who were still in the water and showing off for Peter for a sunset photo shoot. Not to be left out, I grabbed my Phantom quadcopter and captured my first-ever aerial footage of kayakers. At times, I flew only 10 feet above the rushing river, but with well-earned confidence, I knew the copter would hold its course even in the presence of breezy conditions and my intermittent swatting of mosquitoes. When all was said and done, I wound up with a beautiful, uniquely immersive view of Dane Jackson, Sage Donnelly, and Grady Kellogg as they looped (front flips), spun, and surfed their kayaks in the big, powerful wave under the day's final light. Be sure to check out the video below and let me know what you think!
If there is one thing that I rarely, if ever, do on vacation, it is stay in the same place for more than a day and relax. I know it seems crazy, since that is the definition of most people's vacations, but I typically find myself scurrying from one cool place to another like a kid in a candy shop. On this road trip, I obviously adhered to my typical M.O., but the setting at Kelly's along with a strong desire to go against my usual habits both conspired to keep me settled in Cascade for a few days.
On the third of July, I awoke in my Westfalia's rooftop tent to the sound of flowing water and a strange apparition. A large expanse of dirt and gravel filled the foreground while against the horizon was a silhouetted cast of figures moving slowly and deliberately to the north. At the front of the caravan was a woman and trailing behind her slowly were five large animals. They weren't camels, but they were shockingly large for their species of Canis lupus familiaris. Oddly enough, the four Rhodesian Ridgebacks were not hunting the lone half-wolf, but obediently following their master in the day's early sunlight. As the fog slowly lifted from my consciousness, I realized that my Saharan vision was nothing more than fellow kayaker Stephanie Donnelly taking her dogs for a walk in the parking lot of Kelly's whitewater park. I shook off the odd awakening and gazed out the front window of the tent at the play waves on the North Fork of the Payette River knowing that I had wonderful, relaxing day ahead of me on and off the water.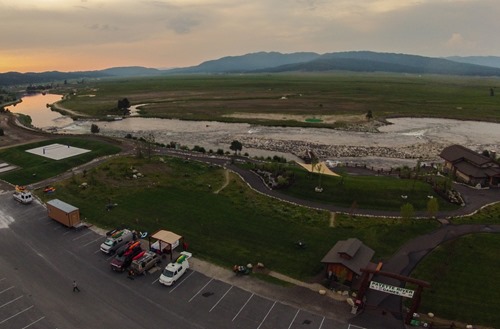 As my gaze moved to the west of the river, I noted that my Westfalia was in good company, with a Eurovan, a Sportsmobile, a Sprinter camper, a Toyota Tundra, and a full-blown RV all calling the Kelly's parking lot their temporary home. And the irony was not lost on me that I had been following the River Gypsies Guide to North America to lead us from river to river, and camped in that dirt lot was a modern breed of gypsies who took up residence in vans instead of horse-drawn wagons while pursuing their love of whitewater. Apparently after all this time, I had found my tribe.
My morning routine consisted of all my usual niceties—fresh brewed coffee, cereal with milk, a little reading, and a casual walk with River Dog. After finally awakening, I hopped on the water and enjoyed a sweet morning surf session in my kayak. I wasn't looking to push myself or "go big", I just wanted some relaxing time on the water and Kelly's was able to serve it up less than 100 yards from my van's camp spot—life was good! And after that, I was able to alternate writing with more surfing and ultimately end up completing my Wyoming blog post. For years, I had envisioned a grand kayaking road trip in my Westy van that was interspersed with photography, writing, and most ambitiously, aerial photography, and there I was at Kelly's fulfilling my dream. There was nothing noble or important about that dream, but it had occupied my a place in my mind for years, and that day at Kelly's, it became reality due to a combination of hard work and good fortune. Even as I write this, I realize how blessed I have been to be able to fulfill so many dreams in my life.
The remainder of the day at Kelly's was spent in several more surf sessions on the various waves. I finally overcame my complacent, vacation-state-of-mind, and moved up to the big-daddy wave that Dane Jackson starred on the previous night. Initially, I had success that was quickly followed by humbling beat-downs. But when I returned later in the day, I achieved a great Zen-state as I pursued my motto for this year to: Get It Dialed In. Surfing my kayak on the green face of the wave was amazingly satisfying as I felt my boat and body carve back and forth on the powerful water below me. Eventually, I moved downstream to the lower waves that seemed surprisingly boring compared to the big-boy up top. But then I noticed a surf board sitting lonely on the rocks, found the owner, asked if I could borrow it, and began to pursue another haphazard hobby of mine.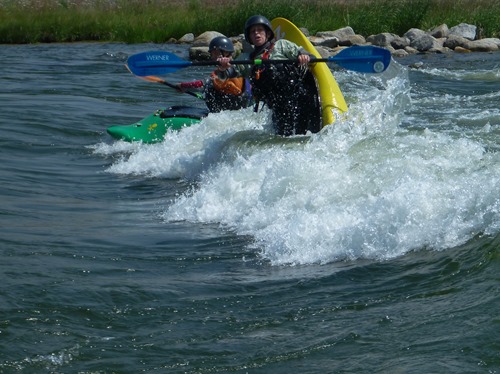 It is an odd feature of physics that a wave in the ocean and a wave in a river can exhibit the same hydrodynamic properties, yet appear so different to an observer on land. In reality, it all comes down to perspective. On the ocean, the wave is moving relative to the water and the land, but on the river, the water is moving relative to the wave and the land. Somehow, people accept the fact that a surfer can ride a wave on the ocean to shore, but are equally baffled by kayakers (and landlocked surfers) who ride waves on rivers while remaining motionless compared to the land. No matter the situation, one thing remains constant—it is a ton of fun to surf waves! So later that day after having spent several hours in my kayak on the waves of Kelly's, I hopped on the borrowed surf board and set about to surf in the middle of Idaho! My initial efforts were quite humbling with many failed attempts due to a misunderstanding of the water currents, but eventually, I found the surfboard on the wave and myself attempting to stand up. More failure ensued with intermittent success, and I eventually remediated myself to the smallest wave where I quickly achieved success. I am sure that it looked funny to an observer on the footbridge above to see a 6 foot-tall, 38 year old man exert himself to the fullest to barely stand up on a surfboard on a 12 inch high wave in the middle of Idaho, but to me, the experience was completely engrossing and the best definition of what it feels like to play.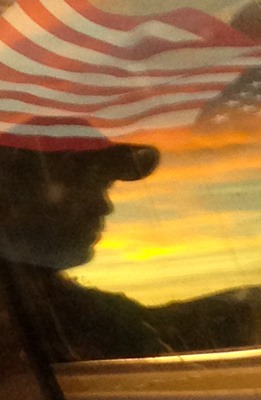 Summer is a season that is defined by holidays, not astronomical extremes. Ask any American, and they will tell you that summer begins with Memorial Day, ends with Labor Day, and is in full swing at the Fourth of July. As with so many other paddling road trips of mine, I found myself celebrating our nation's independence in a remote part of our great country. In the late morning, we made our way through the town of Cascade as hordes of Boise residents migrated north towards McCall only to be thwarted by a spectacular, small-town, American parade through Cascade that featured cows riding on floats along with other wheel-mounted adorable absurdities for exhibition in honor of our great country. We eventually found ourselves slightly south and with a shockingly large contingent of Idahoans at the put-in for the North Fork of the Payette River's Cabarton stretch. While the obligatory shuttle was being run, our attention quickly turned towards a bridge over the river and a prepubescent boy who initially amused us and eventually convinced us to jump off the highpoint into the clear depths. Once again, I found myself shedding my adult self in exchange for a momentary relapse into the innocence of childhood and couldn't help but feel grateful to be experiencing life on our nation's birthday as I careened off the bridge into the water. We eventually made our way down the river as a group, but one thing was made apparent to me. I might have set out in pursuit of whitewater adventures, but that wasn't really what I was seeking. Those unknowing and fleeting moments that I spent in rural America with some of my best friends in the simplest of human conditions—those were reasons that I traveled far and wide.
We slowly made our way down the Cabarton run amid flatwater and pine trees while River Dog looked longingly at me from this forward perch on Greg's raft. After what seemed like an eternity, we encountered a playful, large rapid at the trestle bridge that was quickly followed by more flatwater. Eventually, we reached the climax—back-to-back rapids at the very conclusion of the run that dumped into a lake at the take-out. And those final two rapids were definitely worth mentioning. The first of the two had surprisingly big waves followed by a reassuring pool, and then the second rapid dropped menacingly 15 feet to the lake below. We all came away with our own stories about the final drop, but without a doubt, the children of the group had the most worthy tales. Peter and Kathy's daughter, Abby, spent her Independence Day with her father in a Dynamic Duo careening down the drop while Greg and Cynthia's daughter, Dorothy, bravely fought her way through the rapid on her own in a kayak! We all finished the run proud of the next generation of Americans and eager for our stomachs to be be satiated.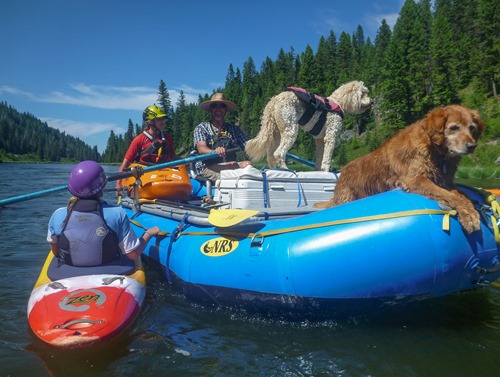 We wound up back in familiar territory in Cascade for a BBQ dinner that was followed by our gypsy vehicles in the Kelly's gravel parking lot. Interspersed with the official fireworks over Lake Cascade, our own little tribe celebrated the nation's independence.  Peter proudly set off his fireworks in between those of the big RV next door that housed the entire 14-person Kellogg Show family. A day earlier, I borrowed one of their surf boards and crossed paths with them numerous times, but it wasn't until I began to write this article that I realized how impressively their father's philosophy corresponded with the time I met them. In quite simple terms and in perfect accordance with the Fourth of July, back in January he said on the Today Show, "This is what freedom is." So on July 4th 2013, I spent my time with my friends, new and old, doing what every American should do—experiencing the life-affirming magic of freedom.
---
Back to Road Trip 2013 Main Page
Read the previous Road Trip 2013 article, Sweltering in Idaho
Continue reading Road Trip 2013 with the next article, Lochsa River
---
Check out a sampling of photos in the gallery below:
Click here to open the photo album in its own window
---
GPS Tracks