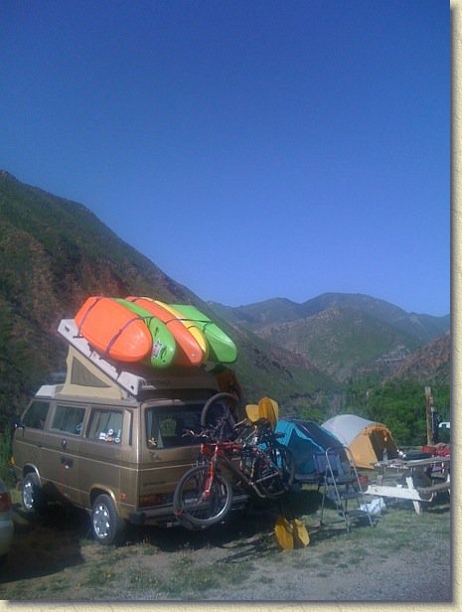 What better way to kick off meteorological summer than a long weekend of kayaking? A bunch of us headed out to Glenwood Springs over Memorial weekend 2010 to catch the run off on the Roaring Fork and Colorado Rivers and we had an incredible time!
The excitement started early in the trip when the van decided to stop working 1/4 mile into Eisenhower Tunnel during one of the busiest travel days of the year! Like the Secret Service protecting the President, the tunnel crew swept into action within 30 seconds by closing the tunnel and dragging the van out with a tow strap! We were shocked by the immediate response and even happier when the van started up again after 5 minutes of rest. Whether it was vapor lock or overheating, we were happy to be on our way again.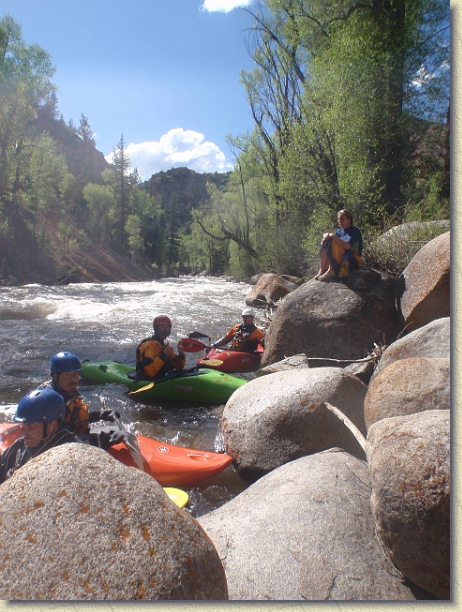 On Saturday, we had a great high water (5000cfs) run on the Cemetary stretch of the Roaring Fork River that included some fun wave trains, and then we headed up stream towards Aspen to run the Slaughterhouse section (1000cfs) of the Roaring Fork. It was Scott's, Robert's, and my first time down the run, but it felt pretty comfortable with Mark leading the way. After that, we picked up Dede and Karen and continued down the Upper Woody stretch which was really exciting at that level.
On Sunday, we turned our attention to the Colorado River which was pumping through Glenwood Canyon at 8900cfs! Scott, Robert and I put in at Shoshone and were blown away by the big water feel of the run at that level. We then picked up Dede, Karen, and Jen and continued down through the Grizzly stretch all the way to the Glenwood wave where we got some surfing in. The girls were able to capture some video action of us going through Shoshone, but of course it doesn't really do justice to the feeling that we had in the chaotic water!

Monday started out a bit slow and we found ourselves back at the Glenwood wave for some more surf action. Once again, there was some video captured and I spliced together a fun little movie of our surf sessions.

Afterwards, we hopped back on I-70 towards Denver with a stop off to run the Upper Eagle. Robert and Mark got in a quick shot down Dowd Chutes where Scott and I joined them for an incredibly quick run down to Avon at 2500cfs. 

I have a handful of photos from the weekend in this photo album.

All in all, it was a fantastic weekend of kayaking and hanging out with friends!